Fixed Wireless Access (FWA) serves as an effective option to extend high-speed internet broadband to areas that have either insufficient or no broadband access, particularly remote and rural areas where fiber is slow and expensive to install and maintain.
Fixed Wireless Access (FWA) has gained prominence with 5G network expansion and its ability to quickly and easily connect homes and enterprises in hard to reach areas.
FWA enables the intersection of fixed-line services and mobile technology.
With FWA, Communication Service Providers (CSPs) have a lucrative opportunity to provide the same network bandwidth as fiber optics to their customers as last mile connectivity in some areas can be costly.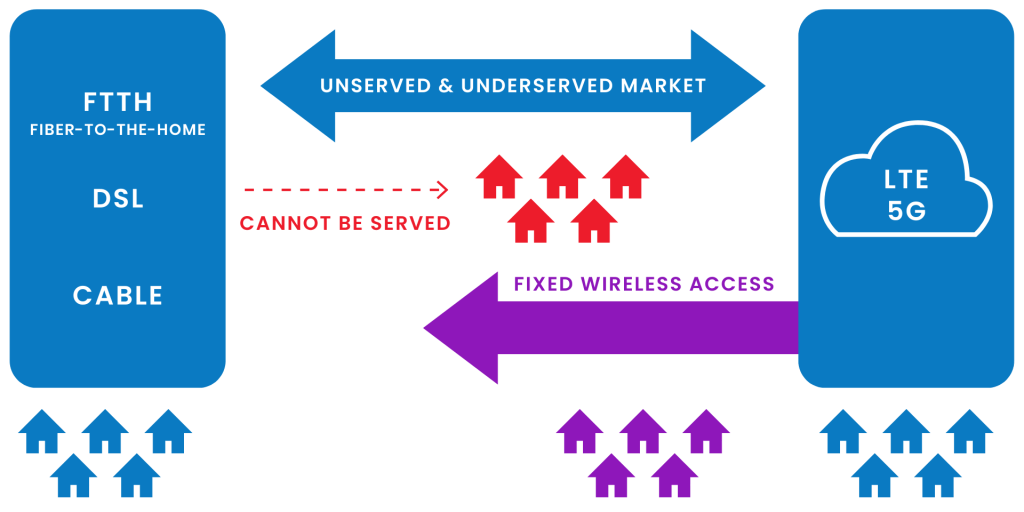 MAVENIR'S 5G FIXED WIRELESS ACCESS
Learn how Mavenir's Converged Packet Core enables operators to have one network for Fixed Wireless Access as well as IoT, enhanced Mobile Broadband, and mission-critical services.
FIXED WIRELESS ACCESS CONNECTIVITY
Fixed Wireless Access deployments, whether 3GPP-based LTE or 5G, can be tailored to suit different market segments and their business needs.

Fixed Wireless Access
MARKET MOMENTUM
Source: Mobile Experts – Fixed Wireless Access Report, September 2022
of CAGR
5G FWA Market is expected to project a notable CAGR of 75.4% in 2030
FWA Connections
FWA connections to exceed 100 million connections in 2022
Operators offer FWA
About half of all operators with commercial LTE or 5G networks now offer FWA
Connections in 5 years
FWA will double in five years to over 200 million connections led by 5G
High Throughput, low footprint UPF
Multi-Cloud environment (Public and Private cloud)
Application Detection Control (ADC)
Geo-Restriction
DS-Lite with AFTR and IPv6 Prefix Delegation
IPTV Detection and Differentiated QoS
Home-zoning and differentiated charging
Dynamic IP Retention
API for SUPI to IP Address mapping
HYPER-CONVERGED INFRASTRUCTURE
Mavenir Converged Packet Core can be deployed on minimum infrastructure, to deliver FWA on a lean solution with maximum throughput.