One Unified Vision
DIVERSITY, EQUITY AND INCLUSION
At Mavenir, we are committed to innovation that transforms the future of mobile networks. As part of that mission, we believe in a truly inclusive, global and high-performance culture. Mavenir is an equal opportunity employer, and we look for innovators, disruptors and those with a can-do attitude, empowering our entire workforce to grow, succeed and feel a sense of belonging.
Mavenir is united by diversity in backgrounds, skills, talents and thought leadership. Passionate and fearless individuals from all walks of life that believe in the power of human connection – joined in respect for one another's personal strengths, values and experiences.
Above all, we are unified in one shared vision: we are one company; one team – delivering together to power continuous innovation.
CORPORATE RESPONSIBILITY REPORT
Our Corporate Responsibility Report spotlights the innovative and ongoing actions we are taking to ensure a healthy and diverse workforce, promote community involvement, and advance environmental performance. Highlights include increasing the use of renewables in our operations and lowering carbon intensity while investing in breakthrough technologies. Mavenir's commitment has never been stronger, and we are fully engaged to protect our workforce and the future of our communities and the environment. 
Code of Conduct
Our Code of Conduct conveys many important messages to our employees, our customers, our business partners and vendors, as well as our equity holders and the general public. Most of all, it demonstrates our commitment. We are committed to maintaining high ethical standards when conducting our business. Our reputation and success depend on doing business with integrity and delivering on our promises to our equity holders, customers and employees.
Expected workplace behaviors are designed to support our Values and are based on the core concepts of integrity, honesty and ethical behavior.
Honesty: Provide truthful information and respectful dialogue.
Ethical Behavior: Live the core values of the Company and act in good faith.
Lawful Conduct: Comply with all applicable laws and regulations.
Good Judgment: Apply appropriate judgment in decision-making.
Common Sense: Use common sense in daily activities and interactions.
Global Procurement Policy
Code of Business Conduct Expectations for Third Parties outlines the Company's expectations for ethical behavior and legal compliance by its business partners, including suppliers, external agents, resellers, alliance partners and others. The expectations are in line with internationally recognized platforms for socially responsible corporations, including the United Nations Global Compact Principles, the International Labor Organization, and the Global e-Sustainability Initiative.
This policy is also in line with our Code of Conduct. We do not expect our business partners to adhere to a standard we are not willing to adhere to ourselves.
View Mavenir's Code of Business Conduct Expectations for Third Parties
Grievance Mechanisms
We encourage everyone who works for Mavenir to report suspected breaches of our Code of Conduct. This can be to managers within Mavenir, or via an anonymous external confidential reporting service – an online and phone reporting hotline that is regularly communicated to all employees, suppliers and contractors.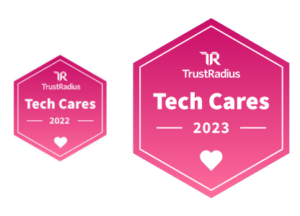 2023 Tech Cares Award From TrustRadius
Mavenir is honored to be recognized with a 2023 Tech Cares Award for our continued leadership in corporate responsibility, community engagement, and environmental sustainability.
"Our commitment to the wellbeing of our employees, customers, and stakeholders has never been stronger. We are fully engaged to protect our diverse global workforce and our planet, for the future of our communities, and the environments we do business across" – Ramnik Kamo, EVP, CIO and CPO.