Enabling Enterprise Connectivity
SECURE, COST-EFFECTIVE PRIVATE NETWORKS
Mavenir's Private Network solution is purpose built for the evolution to 5G and the increased demand of use cases and applications. Mavenir offers its full portfolio of Multi-G solutions for the Private Networks market to address the needs of Enterprises, Industries and Service Providers. This end-to-end 5G system, based on cloud-first and open architecture principles, is highly suited to address both mass scale private enterprise use cases as well as bespoke high-end use cases for advanced industries.
Mavenir's multi-G Open Radio Access Network (Open RAN) capabilities enable a complete end-to-end, software-centric network proposition for small cell deployments. With a broad portfolio of small cells, Mavenir offers private network capabilities for:
Communication Service Providers: Multi-G capabilities to the Open RAN portfolio
Enterprise: A full suite of enterprise radio solutions for Mavenir's Private Network offerings, including OnGo-certified solutions for CBRS
Nontraditional Networks: Leveraging market leading software defined vRAN solutions for Aviation, Maritime, Rural and Remote networks with next generation solutions in the air, on land and at sea
Key Drivers
PRIVATE NETWORK DEPLOYMENTS
Private networks provide a compelling solution for enabling connectivity for enterprises, industries, and service providers. Deployment consideration is driven by several factors:
Global shift towards freeing up of spectrum empowers a new wave of private network use cases

United States: OnGo/CBRS 3.5GHz band and the C-band auction
Europe: Blocks of spectrum being made available across different European countries including UK, Germany, The Netherlands, France, and Sweden.
Asia: Spectrum auctions and allocations in countries including Japan and Taiwan.

Transition from 4G to 5G, and rapid increase of use cases for Industry 4.0 in manufacturing and factory automation, healthcare, retail, hospitality, and first responder applications.
Increased need for network platforms to provide context and connectivity for both people and assets
Digital transformation of enterprises and industries, an integral part of any business environment
The need for enhanced security – according to a study by Nemertes Research* on the use of private networks across the US, security was listed as the top driver for deploying a private network, followed by efficiency improvements and the need to support IoT systems.
* Study conducted by ip.access, a Mavenir company, in September 2019 across 10 verticals, with a total of 302 participants.
Drive Service Agility, Flexibility, and Velocity
INNOVATIVE ARCHITECTURES AND BUSINESS MODELS
Mavenir offers a full portfolio of Multi-G solutions for the Private Networks market that addresses the needs of Enterprises, Industries and Service Providers based on the following four pillars:
Bigger and More Open Ecosystem
Open Architecture based approach enabling bigger and broader ecosystems, including Digital marketplace of Device and application partner eco-system. It includes Multi-standard Open RAN offered in Neutral Host or Product models as opposed to traditional closed hardware-based RAN. Supporting multiple deployment topologies, including MEC.
Zero Touch Deployment and Management
Fully automated deployment and management provides single pane of glass view of all solution components, Manage network resources, network topology, Remote Monitoring, service assurance and diagnostics. Unique capability to expose device and network insights combined with subscription management and used case data. Zero Touch Network Orchestration is supported to manage cloud infrastructure, balancing the needs of multiple micro services and applications within defined parameters and a given load.
Scale and Agility with the Cloud
End-to-End Distributed cloud-based capabilities with fast on-boarding and reliability. 100% cloud native, End-to-End software software-based agile network platforms, fully open architecture-based system. All elements such as 4G/5G Radio software, EPCs and 5G cloud-native core networks, as well as IMS, OSS/BSS and SIM/eSIM management and provisioning are cloud enabled Kubernetes based containerized architecture. These run on COTS (commercial off-the-shelf) hardware or public clouds, enabling lower costs. Cloud powered flexible deployment models – XaaS, On-Prem and Hybrid.
"In-a-Box" Integrated 4G/5G Solution
In-a-box integrated solutions for 4G/5G networks: The networks can run in isolation, where the company wants physical ownership and control over all components on-premise, without reliance on external data centers.
Radio Access, Cloud Core, and Digital Enablement Platform
END-TO-END MULTI-G SOLUTIONS
Mavenir's Open RAN vRAN encompasses 4G and 5G radio access, and the disaggregated RAN approach extends virtualization to the edge of the network and provides strategic differentiation by enabling multisource Remote Radio Units (RRUs) to interwork with the virtualized, containerized, Cloud Base Band software over ethernet Fronthaul (FH), using the O-RAN open interface overcoming the traditional constraints of the proprietary walled garden specifications used by the other traditional equipment vendors.
Mavenir's 5G Converged Packet Core solution, based on cloud-native principles, can be retrofitted on EPCs and encompasses all the major 5G core elements, and these functions are implemented as micro-services in containers. The Mavenir 5G Core also combines 4G EPC functionality and offers a 'Converged Mobile Core' solution that supports both 4G and 5G subscribers. In addition, the Mavenir 5G Core supports all Standalone (SA) and Non-Standalone (NSA) options.
Mavenir's Digital Enablement platform allows Private Network operators to create a seamless way of abstracting out the complexity of the underlying network, and create a digital app store for enterprise and industry applications – thereby empowering an ecosystem of developers, service providers, technology companies, enterprises and industries to create applications to power digitalization with 5G.
MAVENIR EMERGING BUSINESS OFFERINGS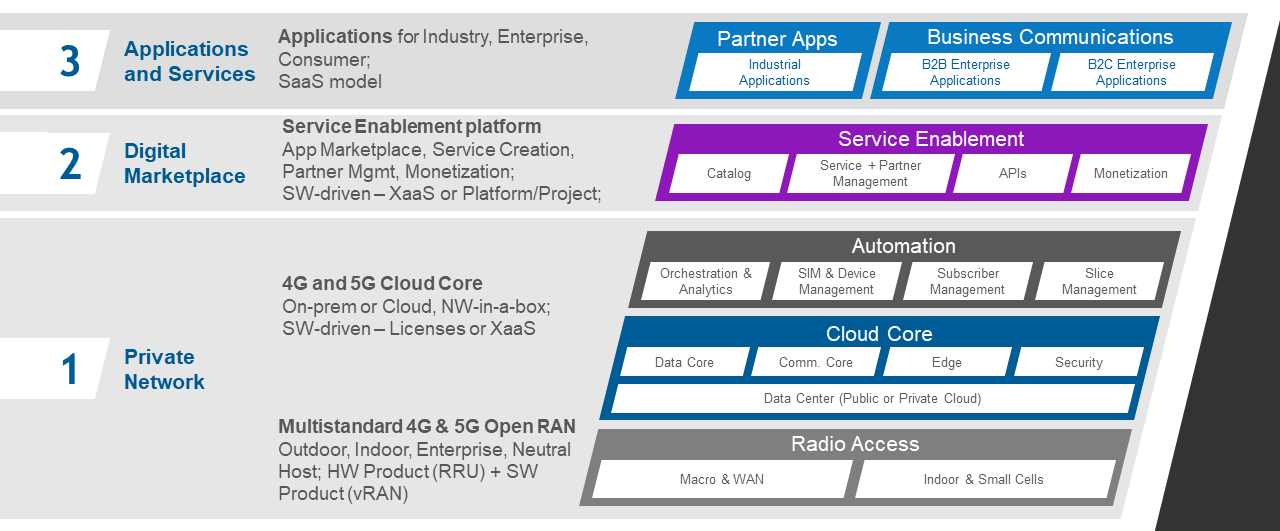 This end-to-end 5G system, based on cloud-first and open architecture principles, is highly suited to address both mass scale private enterprise use cases as well as bespoke high-end use cases for advanced industries. The solution can be delivered as on-prem 'network-in-a-box', cloud-based 'Network-as-a-Service' or Hybrid models. Learn more about Mavenir Systems Integration for private networks.