combine cloud and intelligent networking
MODERNIZE THE OPERATOR BUSINESS FOR THE 5G ERA
Lower costs, provide superior end-to-end performance and optimize the user experience.
AI and machine learning (ML) in mobile network infrastructure  is expected to lower costs by automating functions that typically require human interaction and to speed new revenue generating service offerings, becoming increasingly important as edge, open radio access networks (Open RAN), and 5G cores get deployed.
Mavenir's AI and Analytics portfolio includes solutions designed to analyze and derive inferences from vast amounts of unstructured data to automate networks, achieve cost savings, and build out 5G use cases.
Near-RT RIC
Mavenir's near-RT RIC is the first to control RAN activity at BOTH the cell and individual user level. The containerized application hosts trained AI/ML applications to infer and control O-RAN elements in near-real-time.
Non-RT RIC
Mavenir's non-RT RIC is a containerized application that uses advanced machine learning algorithms to optimize network performance and train ML models using long-term RAN data for dynamic and adaptive policy and control.
Next-Gen OSS
Mavenir's Next-Generation Operations Support Systems (ngOSS) provides agility, flexibility, and speed to market, ultimately helping CSPs realize the true potential of 5G while offsetting the risk of their investment.
Mavenir's Network Data Analytics Function (NWDAF)
New data analytics function for 5G networks, NWDAF uses AI/ML algorithms based on the requirements of the consuming network function to make intelligent decisions, improve network performance, maintain high availability, and optimize the network resource.
Analytics and OBF
Mavenir's suite of Analytics tools deliver an advanced Observability Framework (OBF) to help operators collate and visualize network performance, faults, resource utilizations, incidents and other insights, as well as engage in predictive network planning and optimization in near real-time to enable network automation.
COMBINING CLOUD, AUTOMATION & INTELLIGENCE TO MODERNIZE THE NETWORK
Working with partners at all layers including Orchestration/Slicing, Intelligence, Cloud & Automation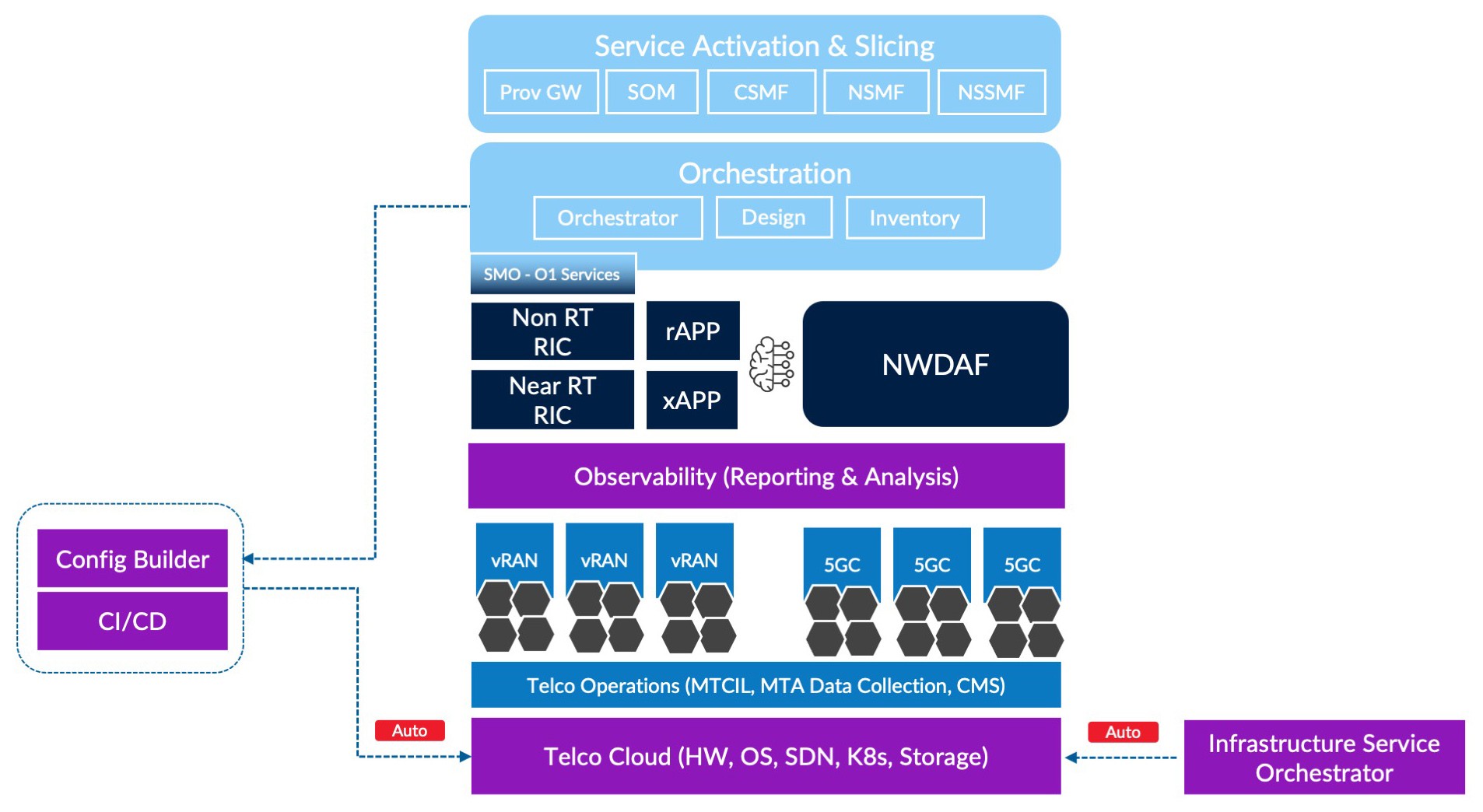 Gain Actionable Insights
NETWORK INTELLIGENCE
With the cloudification of mobile networks, it becomes essential to automate operational processes utilizing real-time and big data analytics based on advanced Machine Learning algorithms. Mavenir's AI & Analytics platform delivers extensive insights that are mandatory for Webscale network automation, slice management, security, and many other use cases defined for Industry 4.0 applications (EdgeAI), RAN intelligence, network optimization, predictive maintenance, business intelligence, and security. The Artificial Intelligence/Machine Learning (AI/ML) algorithms are defined with Mavenir's deep telecom domain expertise while keeping the interfaces standards compliant and the platform open for collaborative innovation.
Gain an End-to-End View
THE NETWORK THROUGH UNIFIED ANALYTICS & AI/ML
The Analytics solution aggregates data from all segments of the network, such as RAN, Packet Core, IMS, Messaging, Transport, Platform and Devices. This provides the ability to correlate metrics and events across all nodes to create an end-to-end view of the network, flow, or a slice. The algorithms can turn this end-to-end insight into tangible inferences and actionable commands to automate network operations. The solution is based on all open interfaces and APIs allowing it to work with any vendor's network functions.
Achieve Closed-Loop Automation
AN OPEN AND EXTENSIBLE AI AND ANALYTICS SOLUTION
Mavenir's open and standards compliant interfaces offer flexibility in picking machine learning framework for various AI application development. The vendor agnostic AI/ML with open interfaces and architecture provide an incrementally upgradable and extensible platform that can collate 3GPP, O-RAN, and cloud-native philosophies. Analytics built on a cloud-native platform and enhanced by artificial intelligence and machine learning is encapsulated in Mavenir's AI and Analytics product portfolio including EdgeAI applications. Massive amounts of data are the fuel for any meaningful AI/ML engine. Mavenir leverages end-to-end telco domain specific data and Analytics systems to deliver intelligence & insights necessary for closed loop automation.
WHY MAVENIR?
Leverages AI/ML across RAN and Packet Core domains for end-to-end 5G Intelligence.
Simplifies deployments with proven, end-to-end domain knowledge for use case realization.
Enables 5G revenue generating services by providing granular and programmable control over 5G mobile network.
Optimizes the user experience by applying Intelligence to increase throughput, decrease latency, and extend coverage to individual subscribers.