deliver innovative & richer customer experiences
COMPOSABLE BSS PLATFORM
The Mavenir Digital Enablement (MDE) platform helps CSPs innovate freely, respond to market demands quickly, and fully monetize new 5G business models.
Mavenir's Digital Enablement (MDE) is a cloud-native, catalog-driven digital BSS that enables CSPs to easily create new 5G digital offerings or complete the 5G network transformation with charging and mediation functions and can also be used to design a digital marketplace experience, bundling cross-industry partner products and services into unified offerings.
MDE is built on a MACH (Microservice, API First, Cloud Native, Headless frontends) architecture that can run as a comprehensive BSS or importantly, as a digital overlay with existing legacy BSS for minimal risk and disruption. BSS digital overlay systems can help CSPs to maximize returns in the 5G era.
"The digital overlay approach can also reduce costs considerably, potentially
saving CSPs up to 50% over 3-5 years

when compared with traditional transformation approaches."
Source: Analysys Mason/Mavenir White Paper "BSS digital overlay systems can help CSPs to maximize returns in the 5G era" – June 2022
With MDE, CSPs can design and create modern digital experiences for subscribers and partners, economically and with scale. The configurable platform gives CSPs the tools needed for a fast response to market changes and the agility to leap forward by creating and delivering next-generation use cases.
fully composable architecture
DIGITAL ENABLEMENT PLATFORM (BSS)
Mavenir's Digital Enablement Platform allows service providers to become innovative and relevant in their customer's journey by serving them with compelling personalized offerings.
Built with microservices and open APIs, this fully composable architecture makes it easy to fit or overlay MDE into any network or legacy system, build customized solutions for BSS needs, and create digital transformation solutions.
Speed, Simplicity, and Flexibility
DELIVER THE 5G PROMISE FOR BSS
Mavenir helps CSPs react faster to market needs, removes vendor lock-in with a platform built entirely on open-source, and enables flexible growth models that help build enhanced customer relationships.
MDE is built from the ground up on containerized microservices that simplify and automate software development and maintenance and introduce software reusability, ultimately resulting in reduced time to market, operational costs, and increased revenue and customer satisfaction.
Speed – Respond to the Market Quickly
Innovate fearlessly and at speed, using future-proof technology to more quickly support emerging business models and capitalize on 5G opportunities as the industry and customer behavior evolve. Create full-featured new services easily and deliver them ahead of the competition.
MDE's catalog-based platform allows CSPs to pivot quickly and create new offerings that respond to the needs of digital-focused customers in addition to handling all the charging and billing requirements.
Simplicity – Offer Enhanced Customer Experiences
Deliver innovative, digital customer interactions in a simple, cost-effective and secure manner. Use the MDE platform to innovate like a startup and deliver like an enterprise, monetizing and designing new services.
CSPs can offer their customers a cloud infrastructure, connectivity, and service assurance, all bundled into a single, on-demand service that is billed in real-time. CSPs can seamlessly create digital journeys with a no-code ​platform and UI-driven workflow engine.
Flexibility – Design, Test, and Deliver Offerings for Multiple Business Lines
Mavenir's proven, open-source tools and multi-tenant technologies allow faster, less expensive development and the latest UI/UX frameworks for an intuitive design.
Use a sandbox approach to experiment, refine, and scale new services and yet-to-be-imagined revenue opportunities quickly in just weeks, starting small and incrementally adding more features. ​
Innovate and react faster to market needs
Remove vendor lock-in with a platform built entirely on open-source
Transform with a composable architecture and dynamic microservice scaling
Minimize the total cost of ownership with multi-tenancy architecture
Empower marketing to launch customer journeys quickly
Enable flexible growth models, simplify operations, and facilitate onboarding and settling with cross-industry partners
Converged Charging System (CCS)
Charging Gateway Function
MVNO's Can Build a Dynamic Digital Brand
Mavenir's Converged Charging System (CCS) is a modern telecom charging system and can be deployed alongside the existing charging solution.
The microservices-based, API-first, cloud-native, and headless (MACH) architecture supports the next-generation rating and charging requirements, including 5G, mIoT, MEC, and Network-as-a-Service.
Mavenir's CCS supports complete convergence of charging models and is service or network agnostic for charging offer and rule definitions.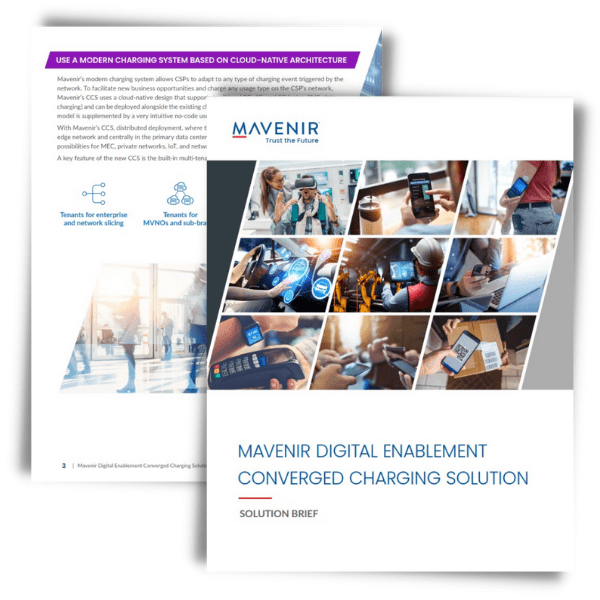 COMPOSABLE BSS
Start Building Improved Customer Interactions with the Reusable Microservices and APIs
With an ever-growing library of microservices and open APIs, MDE allows CSPs to build and customize systems in a few simple clicks with no coding required. Compose services that accommodate broad customer segments or conduct rapid product experiments over agile sprint cycles to reduce the risks of failure. All MDE solutions are built on a future-proof, microservices framework designed for agile experience creation.
MACH-BASED ABSTRACTION LAYER
Reuse existing BSS to build, own, and reuse software components.

MICROSERVICES
Independent, stateless pieces of software

API-FIRST
All application functionality is exposed via OpenAPIs

CLOUD-NATIVE
Software is built natively to support cloud deployments

HEADLESS
Supports any type of frontend device without changes to the backend
The MDE catalog-driven platform enables better experiences by easily bundling offerings, products, and services from external partners. It's simple to test new ideas and deploy new offerings without the traditional development costs and slow timelines. Using a cloud-native design approach MDE is built around microservices, a proven architecture, a no-code UI using headless design, and agile experience creation.
CSPs can also offer their B2B customers a cloud infrastructure, connectivity, and service assurance, all bundled into a single, on-demand service that is billed in real-time and transparently settled across partners.