Artificial Intelligence (AI), Analytics, Automation, and Orchestration
IMPROVE THE OVERALL USER EXPERIENCE, OpEx, AND REDUCE THE RISK OF MANUAL ERRORS
To achieve the full potential of 5G and the innovation it offers, mobile networks require end-to-end automation to reduce manual tasks, improve service experience, enable efficient network resource utilization, and allow faster roll-out of innovative services.
Based on a microservice architecture, Mavenir's Next-Generation Operations Support Systems (ngOSS) provides agility, flexibility, and speed to market, ultimately helping CSPs realize the true potential of 5G while offsetting the risk of their investment. The solution brings together a powerful combination of AI, Analytics, Automation, and Orchestration, backed by Mavenir's experience delivering telecom network solutions, to enable intelligent network operations.
End-to-end service and resource orchestration
SIMPLIFYING NETWORKS WITH INTELLIGENT OSS AUTOMATION
As the industry shifts from virtualization to automation of the network layer, more advanced Operations Support Systems (OSS) are required to address the automation and orchestration challenges of complex networks.
End-to-end service and resource orchestration is the pathway to increased service velocity because it can intelligently match service requirements with a real-time view of available network functions and resources. Domain orchestration provides life cycle management of network functions across various domains, including RAN, Edge, and Core. Zero-touch service assurance powered by AI and Analytics delivers operational simplicity and agility to scale up and scale down service workloads.
Mavenir's ngOSS solution enables orchestration, automation and efficient operation of existing legacy 4G network infrastructures along with 5G components. The end-to-end, cloud-native, automation framework is standards-based and uses enhanced AI and ML models to deliver advanced network performance.
Data Management
Accelerate network automation with next-generation network inventory, catalog, and subscriber data management products built with accuracy and agility.
Service Fulfillment and Orchestration
Enable end-to-end service fulfillment and orchestration in the mobile network. These products, combined with Intelligent Operations, enable closed-loop automation.
Intelligent Network Operations
Achieve operational efficiency and opex savings with next-generation service assurance bundled with AI-driven Operations (AIOps).
Domain Management
Gain control of specific technology domains, including the RAN Intelligent Controller, NFV Orchestrator, Network Subnet Slice Management Function (NSSMF), Observability Framework, and Configuration Management.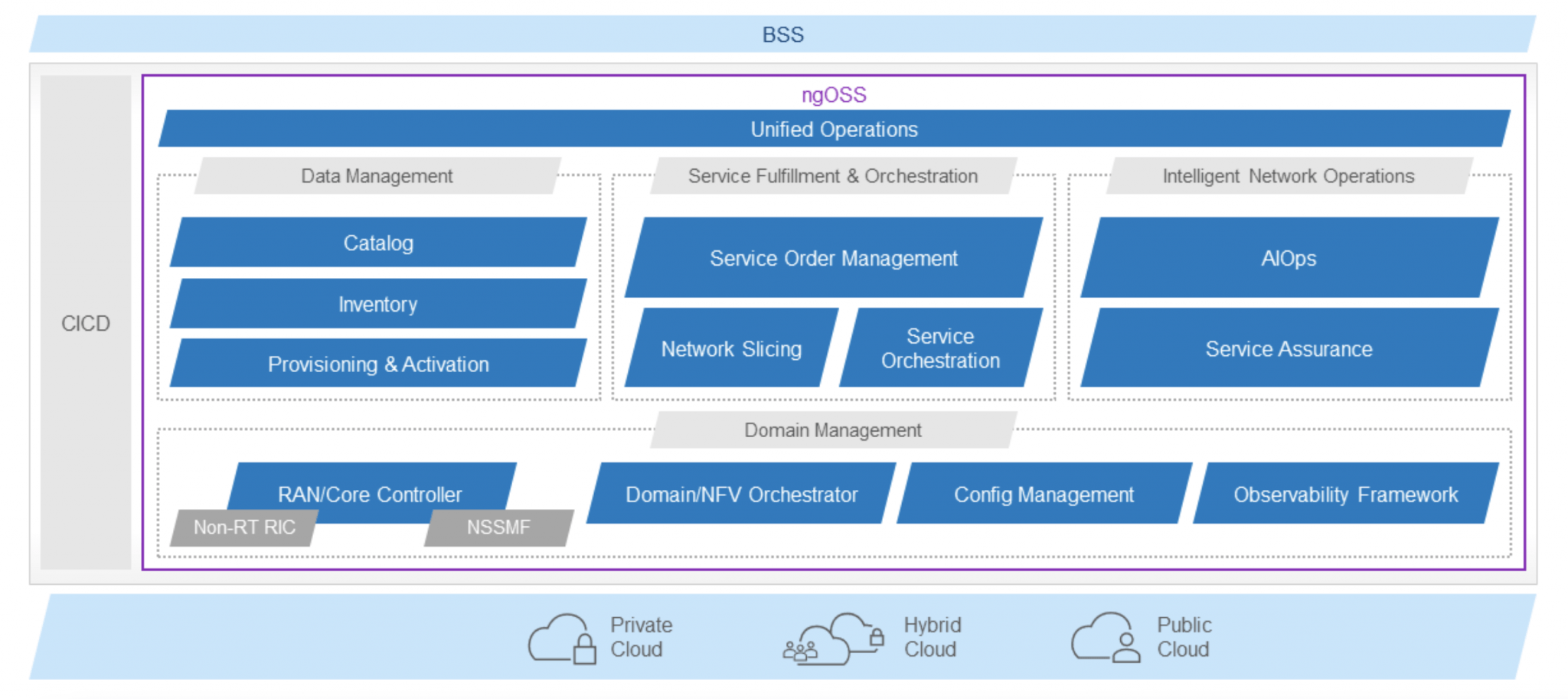 ACHIEVE ADVANCED NETWORK PERFORMANCE AND ENHANCED CUSTOMER EXPERIENCE WITH MAVENIR ngOSS
Mavenir is an OSS vendor with 4G/5G and mobile core/RAN expertise, and in-depth understanding of orchestrating telco workloads required for enabling advanced 5G capabilities, including network slicing, which translates directly into efficiencies for CSPs.
ngOSS purpose built for telco
Cloud-native design with microservice architecture
End-to-end service orchestration with closed-loop automation based on Analytics, RIC and AI/ML
Improved agility and time to market with CI/CD integration
Built with open interfaces to enable multi-vendor integration
In-depth understanding and proven track record of orchestrating telco workloads