Mavenir Open vRAN Brings Network Elasticity, Flexibility, and Best in Class Automation
Mavenir's Open vRAN solution is the world's first fully containerized, virtualized Open RAN Split 7.2 architecture. It leverages open interfaces, virtualization and web-scale containerization to support various deployment scenarios – including private, hybrid cloud, and public cloud, which expect to yield nearly 40% savings in TCO over 5 years.
The evolved Open RAN architecture, designed with cloud-native virtualization techniques, enables the RAN to flex and adapt based on usage and coverage. Cloud computing shifts network functions from dedicated hardware platforms into virtualized software components that can be implemented on hardware, which can be pooled in centralized data centers.
Mavenir's award winning Open vRAN solution brings increased business agility with network elasticity and flexibility of deployment powered with automation using best in class AI/ML to cover all deployment use cases from Green field, Brownfield, FWA, eMBB, Industrial IoT & Neutral hosting for all G (2G, 3G,4G & 5G) inbuilding, small cell and Macro outdoor deployments.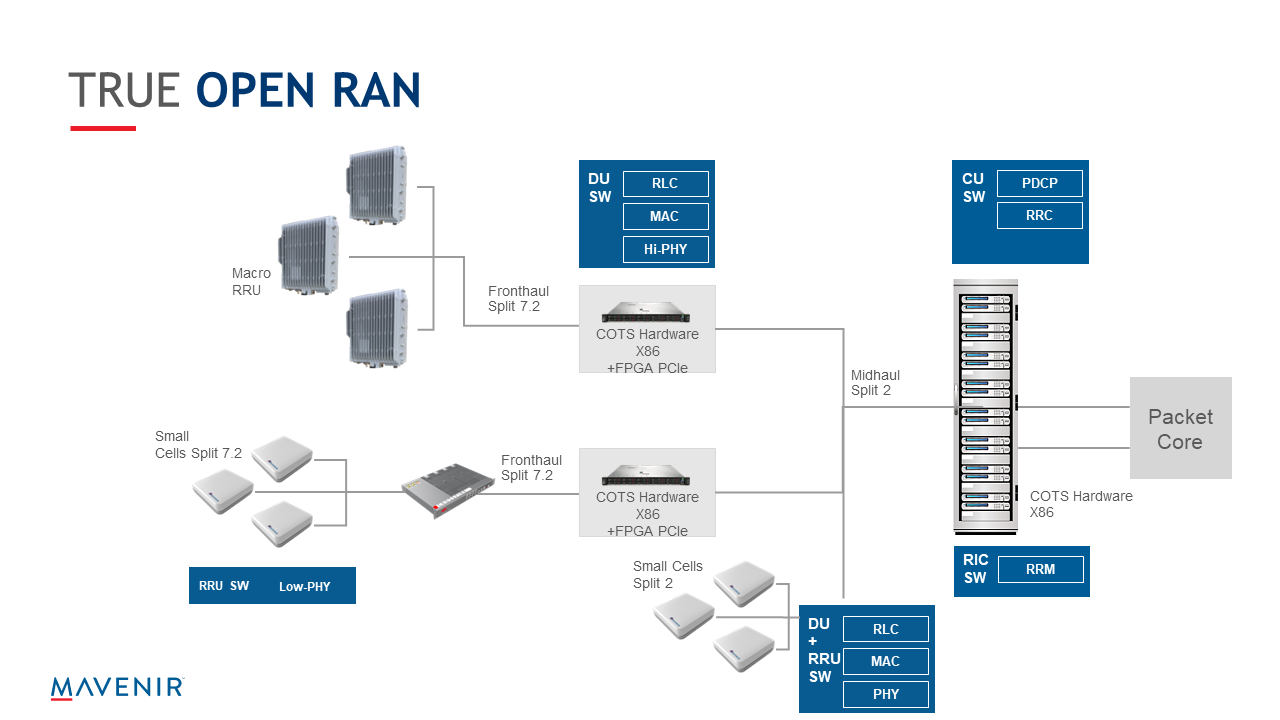 Mavenir's Open vRAN O-RAN compliant, fully containerized true Open RAN solution which works on open interfaces supporting O-RAN Split 7.2x and Split 2. It further disaggregates into Distributed unit (DU) and centralized unit (CU). These entities work as a containerized network function (vDU, vCU CNF) running on Commercial Off the Shelf (COTS) hardware.
This approach provides strategic differentiation by enabling the Remote Radio Units (RRUs) to interwork with the Virtualized Baseband Unit (vBBU) over a non-ideal fronthaul overcoming the traditional constraints of CPRI over fiber. Mavenir Open vRAN is designed to support multiple Fronthaul splits simultaneously – making the vRAN solution an ideal choice for a vendor-agnostic and future-proof strategy for the CSPs. Mavenir is blazing a trail in the O-RAN eco system by enabling the partners to come up with a comprehensive portfolio of O-RAN compliant RUs, Compute nodes, innovative site solution & network automation using SON/RIC.
Mavenir RAN Intelligent Controller (RIC)
Mavenir's RAN Intelligent Controller (RIC) helps manage multi-vendor RAN components and enables operators to proactively manage their network resources to automate processes, mitigate service degradation and keep the quality of experience high for their subscribers. The non-RT RIC is a containerized application that uses advanced machine learning algorithms to optimize network performance and train machine learning models using long-term RAN data for dynamic and adaptive policy and control. The near RT RIC application hosts trained AI/ML applications to infer and control O-RAN elements in near-real time and supports such functions such as traffic steering, slice SLA management, mMIMO Beam forming ​optimization, and industry specific use cases.
Open RAN Evolution Includes 2G/3G Across a Single Unified RAN to Support 'Multi-G' Radio Access
Mavenir has established a Centre of Innovation in Cambridge, United Kingdom.  The Centre will focus on Mavenir's innovative and open virtualized Multi Radio Access Technology (vMRAT) development and specifically on the integration of the 2G and 3G capabilities, giving the industry a unique solution for MRAT OpenRAN which is completely built on virtualized architecture, fully containerized and integrates all the 'multi-G' cellular stacks from 2G to 5G. The solution will feature the ability to scale and utilize a single architecture to cover all mobile technologies, giving the advantage of an extremely agile and flexible configuration for even faster time to market and for remote operations of the radio access network.
Mavenir Open RAN Partner Ecosystem
The OpenRAN Partner Ecosystem provides more options and makes it easy for operators to deploy an innovative, flexible Cloud-based OpenRAN solution.  We act as the End-to-End systems integrator simplifying the engagement for operators and creating an offering that is on par with the traditional, hardware-centric proprietary vendors.  Open interfaces are in the best interest of the CSPs and the overall industry.  The formation of this ecosystem creates a challenger to the traditional radio vendors.  Other companies are encouraged to support this effort, which will result in a game-changer, as operators continue to seek a new economic model in a world where a traditional, hardware-based approach is no longer a viable option.
Launching Evenstar to Accelerate Open RAN Adoption
As a founding member of the Telecom Infra Project (TIP), Mavenir works closely with the TIP community to improve the infrastructure for global networks. Together with partners  Microelectronic Technology Inc. (MTI) and in collaboration with Facebook Connectivity, Mavenir has launched the Evenstar B3 Remote Radio Head Units (RRU), which will give mobile network operators the ability to accelerate the adoption of OpenRAN technology.
The Evenstar program will focus on building general-purpose radio access network (RAN) reference designs for 4G/5G networks in the Open RAN ecosystem that are aligned with 3GPP and O-RAN specifications.
Mavenir Open RAN Services
The growing momentum for OpenRAN solutions is driving the demand from mobile operators for vendors to provide an end to end OpenRAN service ecosystem to design, build, optimize and maintain these networks.

The Evenstar B3 RRH is generally available now, with plans to expand into other Open RAN architectural elements. The Evenstar program will eventually include multiple RRH product SKUs, including FDD B3 (4T4R 4X40W). The RRH architecture is based on O-RAN Alliance Fronthaul specifications based on Split 7.2.
Please contact us for more information.