Accelerating Enterprise Insights with Intelligent Video Analytics
ARTIFICIAL INTELLIGENCE (AI) APPLIED TO REAL-TIME VIDEO
Mavenir's Intelligent Video Analytics (IVA) delivers an intuitive yet powerful solution where artificial intelligence (AI) is applied to real-time videos to analyze and generate alerts for actionable insights. The comprehensive solution is built on cloud-native frameworks, engages 5G networks, and leverages acceleration offered by GPUs to deliver highly reliable, high-performing, and scalable AI solutions at the edge.
Enterprises are deploying cameras to capture images and videos at an accelerated pace to understand and react to anomalies. With several petabytes of video footage data being accumulated every day, enterprises are looking for AI-based solutions to complement human staff responsible for detecting and reacting to insights.
Mavenir's IVA is a unique offering in the marketplace where a comprehensive solution with bundled deep learning models and configured workflows are provided to detect and act on insights at the edge.
Artificial Intelligence Features
ANALYZE AND ACTION VAST AMOUNTS OF VIDEO FOOTAGE
With Mavenir's IVA solution, enterprises can:
Drive faster decisions with a comprehensive AI solution
Lower total cost of ownership with AI-based data insights
Reduced time-to-deploy with pre-packaged analytic workflow
Simplify multi-vendor deployments with an open architecture solution
Deploy on the cloud and the edge with a cloud-native framework
Intelligent Video Analytics
WHY MAVENIR?
Inbuilt deep learning models
Deliver real-time insights
Built with open interfaces to enable multi-vendor integration
Intuitive user interface
Bundled with 5G networks
Cloud-native design with microservice architecture
Accelerating solutions
MAVENIR'S IVA SOLUTION ARCHITECTURE
Mavenir's Intelligent Video Analytics is bundled with several pre-trained models that can accelerate deployments of AI solutions for several domains.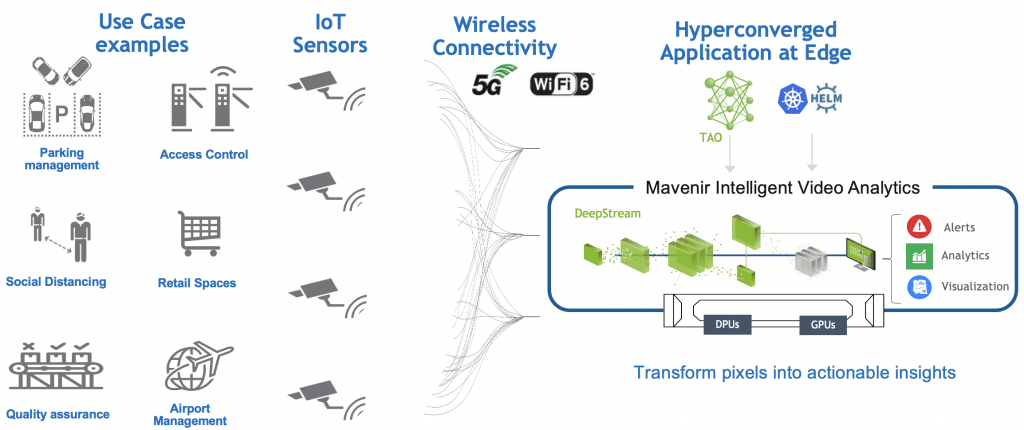 As depicted in Figure 1, Mavenir's Intelligent Video Analytics is a platform to aggregate pixels from several cameras, have them analyzed with pre-trained models to generate event-based actionable alerts.
Parking management and traffic management for Smarter Cities
The lifelines of a city are monitored to ensure the smooth movement of traffic. IVA bundles inbuilt models that detect traffic jams and accidents and compute the average speed of vehicles on a highway. Intersections are monitored for "near-miss" incidents, parking spots are checked to manage parking and illegal U-turns are detected to provide details for the traffic administration to react. Traffic administrators can log details such as detected license plate numbers, location, and time of the incident to pursue the incident with drivers or use the information to improve management of traffic.
Social distancing to safely bring workers back post-pandemic
Industries are working hard to enforce regulations that will help curb the spread of the pandemic caused by the COVID-19 virus. Intelligent video analytics is being engaged to ensure workers are following social distancing protocols by promptly detecting queues at entry and exits, ensuring contact with common areas are reduced by scanning faces to provide access to facilities, and recommending face masks to prevent the spread of the virus. In addition, IVA can also survey workplaces to ensure workers are effectively using PPE and monitoring for safety while heavy machinery is in use.
Optimize management of retail spaces
Retailers are engaging AI to enhance the shopper experience and optimize the orchestration of inventory in their premises. Insights such as footfall help retailers ensure their floors are well-staffed and inventories are filled up. Shoppers are analyzed to profile their buying habits and instantly provide the best deals.
AI is leveraged to monitor shelves for inventory, shopping floors are surveyed for abandoned carts, or products on the floor or detect slippery floors that could cause injuries, cameras outside the retail store can also detect people loitering or vandalizing their facilities.
Quality assurance to ensure zero defects during manufacturing
Computer vision complements workers on manufacturing floors to inspect for defects and ensure high-quality products. Images and videos from fast-moving production lines are analyzed for anomalies, and actionable alerts are generated for the PLC to react. For example, a can of soda with a deformed label would be removed from the line, preventing its further processing into the packaging of finished goods. Intelligent video analytics over 5G can process several hundreds of fast-moving products to optimize production to ensure the highest quality of products.
The bandwidth of 5G offers a scaling solution to several use cases with the least impact on the existing infrastructure.
Manage airports to enhance traveler experiences and monitor assets
Airports are facilities that never sleep. Passengers expect a smooth flow of operations for a quality travel experience. Likewise, operators expect operations and assets to be optimally managed.
IVA provides custom build AI capabilities where every stage of a passenger journey can be monitored to improve the experience. Parking lots are monitored to ensure passengers can enter and exit very quickly, and long lines at check-ins and security gates are detected to summon additional help. Premises are surveyed for crowding or loitering of passengers.
In addition, assets such as aircrafts are monitored to measure the insights that help operators optimize shared facilities, including average time to fuel, load/unload baggage, and connect jet bridges to onboard/off-board passengers.
Enabling Faster, Smarter Decisions for Enterprises
ENTERPRISE USE CASES
Mavenir's IVA solution is bundled with several pre-trained models that can accelerate deployments of AI solutions to enable many use cases, including:
Manufacturing
Ensure quality of products through defect inspection
Smart Cities
Proactively monitor and improve traffic flow
Entertainment
Manage crowds and ensure proper planning for large spectator events
Airports
Enhance traveler experiences and ensure smooth operations
Retail
Optimize retail floor management to enhance the shopper experience
Workplace Safety
Ensure workers comply with safety standards and regulations