CLOUD-NATIVE OPEN RAN
ACCELERATING NETWORK TRANSFORMATION
Open RAN principles present an alternative way of building networks that ensures interoperability, vendor competition, element security and reduced operating costs across the radio access networks (RAN).
Open RAN focuses on using vendor-neutral hardware and software based on open interfaces and community-developed standards, giving communication service provider's the ability to use one supplier's radios with another supplier's RAN applications.
With 5G deployment plans in full-swing, communication service providers around the globe are using the opportunity to transform their mobile network.
OPEN RAN
Mavenir's Open RAN vRAN solution is the world's first fully containerized, virtualized Open RAN Split 7.2 architecture. It leverages open interfaces, virtualization and web-scale containerization to support various deployment scenarios – including private, hybrid cloud, and public cloud – resulting in nearly 40% savings in TCO over 5 years.
WHAT IS
OPEN RAN?
Open RAN can be implemented with vendor-neutral hardware and software-defined technology based on open interfaces and industry-developed standards.
TRADITIONAL

RAN

In a traditional RAN system, the radio, hardware and software are proprietary.
This means that nearly all of the equipment comes from one supplier and that operators are unable to, for example, deploy a network using radios from one vendor with hardware and software from another vendor.
Mixing and matching cell sites from different providers typically leads to a performance reduction. The result is that most network operators, while supporting multiple RAN vendors, will deploy networks using a single vendor in a geographic region.
*Open RAN Coalition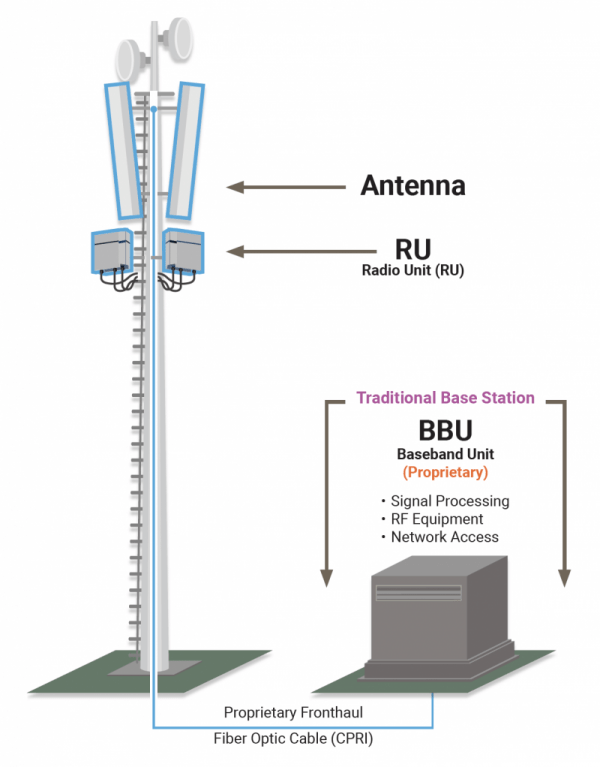 OPEN

RAN

Open RAN is not a technology, but rather an ongoing shift in mobile network architecture that allows networks to be built using subcomponents from a variety of vendors.
The key concept of Open RAN is "opening" the protocols and interfaces between the various subcomponents (radios, hardware and software) in the RAN. As a technical matter this is what the industry refers to as a disaggregated RAN. The benefits of this approach include increased network agility and flexibility, increased innovation and cost savings.
There are three primary elements in the RAN:
The Radio Unit (RU) is where the radio frequency signals are transmitted, received, amplified and digitized. The RU is located near, or integrated into, the antenna.
The Distributed Unit (DU) is where the real-time, baseband processing functions reside. The DU can be deployed at the cell site or concentrated in aggregated locations.
The Centralized Unit (CU) is where the less time-sensitive packet processing functions typically reside.
It is the interfaces between the RU, DU and the CU that are the main focus of Open RAN. By opening and standardizing these interfaces (among others in the network), and incentivizing implementation of the same, we move to an environment where networks can be deployed with a more modular design without being dependent upon a single vendor. Making these changes can also allow the DU and CU to be run as virtualized software functions on vendor-neutral hardware.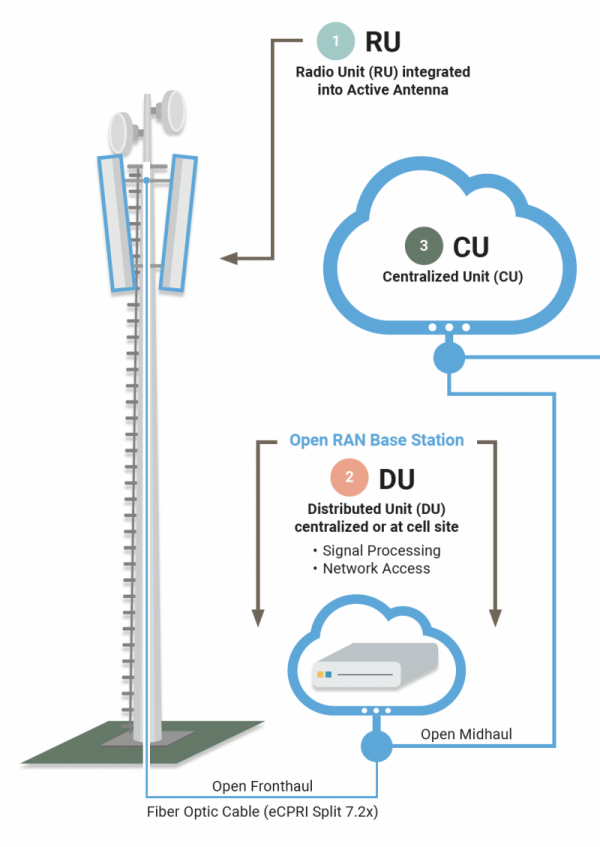 Cost Savings
Build a virtualized network, containerize it and each of the elements can be completely broken down. This modern network can support either tens of subscribers to millions of subscribers. It just depends on how many instances and substantiations of the VNFs can you run on a single platform.
Multiple Operators and Network Sharing
Open RAN vRAN can run multiple operators using multiple VNFs sitting side-by-side on the same platform to have segregated networks. The other benefit is network sharing in the future through software.
Eliminate Vendor Lock-In
Open RAN breaks open the interface between the remote radio head and the DU. With current legacy vendors, it's a walled garden and proprietary. Through O-RAN, a fully open interface on Split 7.2 has been defined including all the OEM.
Security
Open RAN enables operators with full visibility and control of their network's end-to-end security. Open RAN interfaces, defined in the O-RAN technical specifications, provide increased independent visibility and the opportunity for an overall enhanced and more secure system. Since O-RAN Alliance builds on 3GPP's 5G NR architecture, it benefits from 3GPP's advanced security features introduced for 5G.
3rd Party Testing Benefits
Radios with 3GPP specs on one side and O-RAN specs on the other will work with different vendors' baseband and because there is a defined specification with 3GPP interfaces, the elements can be tested independently. It takes pressure off operators to test in their own labs. Radios can be purchased from any vendor and tested by independently by a 3rd party and be assured that it works. Soon radios will be produced at low cost on the basis that any operator can buy them and not get locked into a specific system integrator.