Business Messaging and Monetization
CUSTOMER ENGAGEMENT AS A SERVICE
Mavenir provides a cloud-based customer engagement as a service solution that enables communication service providers, systems integrators, and channel partners to offer conversational commerce experiences, including advanced messaging communications and automation to businesses of all sizes, with a fast go-to-market, reduced risk, and minimal upfront investments.
Mavenir's customer engagement offering, based on Mavenir's Communications Platform as a Service (CPaaS) solution, delivers a wide portfolio of business messaging and monetization capabilities, such as RCS Business Messaging, Apple Messages for Business, A2P and P2A campaign management, templated chatbots, visual flow builders, payment integrations, advanced analytics and more. Brands, developers, and aggregators get easy access to the network messaging capabilities via simple RESTful APIs and build and manage rich customer engagement experiences using easy-to-use web tools.
MESSAGING AS A PLATFORM (MaaP): A gateway layer that provides the standard, REST-based Northbound API used to connect chatbots and applications, and the Southbound API to connect to other MaaPs. It is fully compliant with the latest Universal Profile (UP) RCS specifications and provides chatbot registry, directory function and bot analytics, human-in-the-loop APIs for session transfer to a human agent, and more.
MULTI-CHANNEL CONNECTORS: Web chat, Google Jibe RCS, Google Business Messaging, Apple Messages for Business as well as other messaging ecosystems.
INTEGRATION WITH THIRD PARTY PLATFORMS: Such as payment gateways, and more.
BUSINESS MONETIZATION LAYER: A suite of value-added service enablers including campaign manager—for application-to-person (A2P) and person-to-application (P2A) campaigns—pre-built chatbot templates, payment integrations, advanced messaging analytics, and a visual flow editor to let businesses customize bot templates or build chatbots from scratch.
HUMAN-IN-THE-LOOP API INTEGRATION: Transfer chat sessions to a human agent.
SPAMSHIELD: An AI/ML powered revenue assurance solution.
OTHER FEATURES: Self-Service onboarding. Ecosystem of pre-integrated messaging partners.
REQUEST INFORMATION
Want to know more about how Mavenir Customer Engagement Solution can enhance revenue outlook?
Customer Engagement
SOLUTION BENEFITS
A software-as-a-service (SaaS) offering that is continuously enhanced with new features and capabilities. It provides the following benefits:
Broader Reach
Omnichannel service connected to web chat Google Jibe RCS, Google Business Messaging, Apple Messages for Business, and other messaging ecosystems. Service providers can allow brands and businesses to interact with customers wherever they are.
Lower Upfront Costs
Hosted, managed, and operated by Mavenir in the cloud. Light integration to the service provider's network. No need to acquire network equipment or hire expert personnel to operate it.
Integration with Business Platforms
CRM systems, eCommerce, point-of-sale (PoS), and more. Allows businesses to integrate their business processes into the conversational commerce experience.
Faster Time to Market
From a few weeks to a few months (depending on the level of integration)
Built-in Customer Care Capabilities
Integrate to contact center software with Human-in-the-Loop (HITL) APIs. Service providers can enable businesses to transfer chatbot sessions to a human agent, including the conversation history.
Powerful Monetization Capabilities
Including templated bots, campaign management, payment integrations, digital enablement, self-service onboarding portal, advanced analytics, and customer dashboard.
Interactive Flow Builder
For easy tweak to pre-built chatbot templates or to develop chatbot flows from scratch. Visual and intuitive builder UI with a soft learning curve.
Flexible Business Models
Subscription models, based on dimensioning and consumption, and revenue share models that provide the right balance between profitability and risk.
Protect Messaging Revenue and
OPEN NEW REVENUE OPPORTUNITIES
Mavenir allows service providers to grow their existing A2P wholesale messaging business—by offering rich, multimedia capabilities—and expand into new P2A revenue sources in mobile marketing, advertising, customer service, and conversational commerce markets, without giving up control of their networks.
For systems integrators and channel partners, Mavenir provides a solid customer engagement platform with interconnection to leading messaging ecosystems as well as global communications service providers (CSPs) that opens new revenue opportunities.
For example, channel partners can leverage the monetization tools within the Mavenir Customer Engagement Solution to build value on top of the platform, with their own templated chatbots and pre-packaged experiences, delivered to the market in a predictable and affordable way and lowering the barrier of entry from the large enterprise to the small and medium business.
Mavenir's solution includes a GSMA standards-compliant Customer Engagement as a Service solution—powered by MAVscale MaaP.
Mavenir allows CSPs to protect their growing business messaging revenue by providing a fast and simple solution to implement RCS business messaging into the wireless network, from the cloud, with full compatibility with GSMA Universal Profile clients and facilitating the integration of enablers such as chatbots, mobile payments and other messaging-based applications.
The solution enables CSPs and aggregators to strategically position themselves as key players in the business-to-consumer (B2C) messaging market.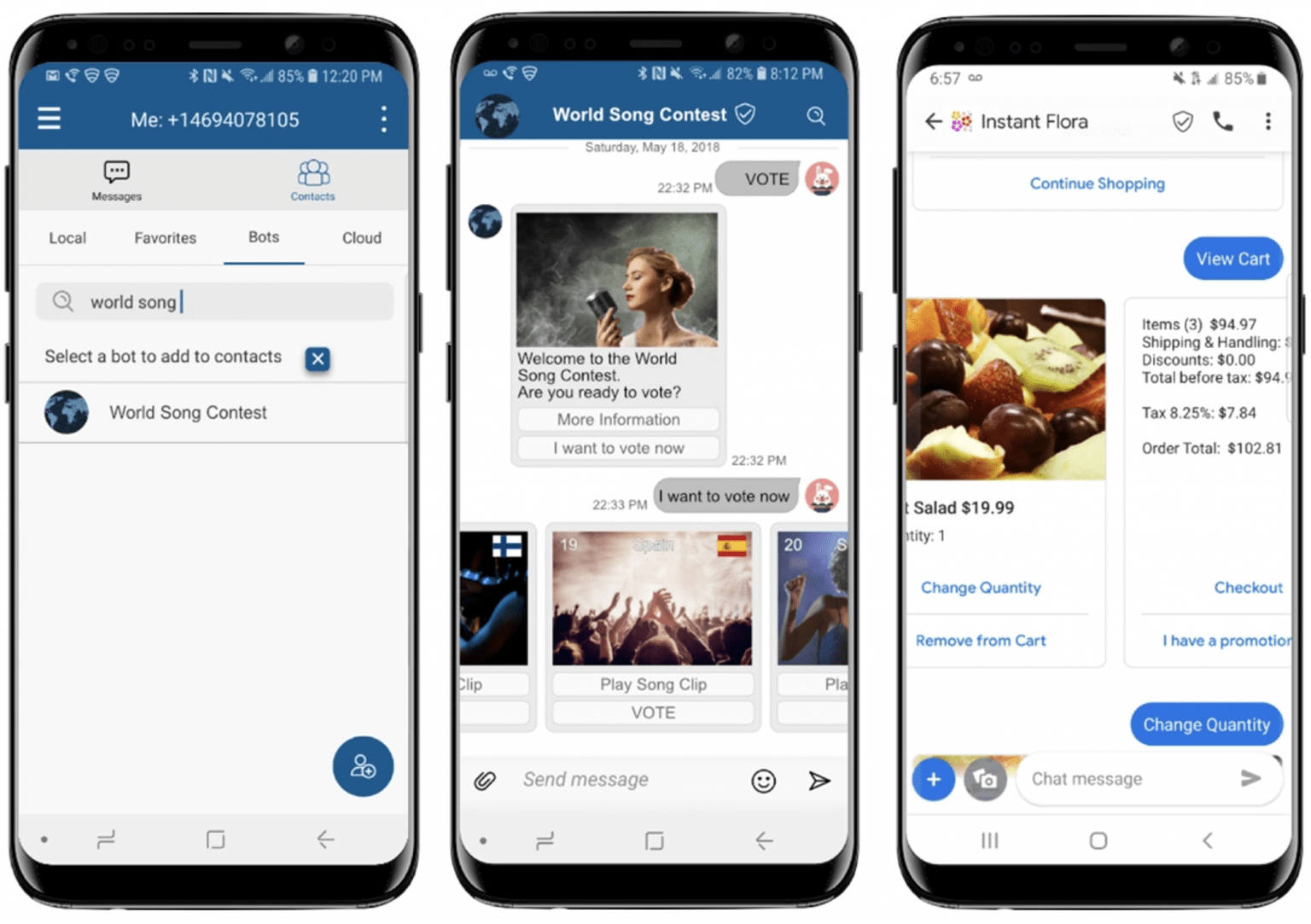 Messaging Solution
ENHANCING BUSINESS-TO-CONSUMER (B2C) CUSTOMER ENGAGEMENT
Mavenir allows service providers to stand out from the OTT noise by offering brands and aggregators a messaging solution that has the attributes they covet:
Reach
Any consumer with a mobile phone number and an RCS compatible device and backward compatibility with MMS or SMS only devices.
Clean Channel
Ensuring the conversation between the brand and the consumer is private and the content will not be shared with third parties for other purposes (e.g.: tracking).
Rewards
The monetization platform allows opt-in consumers to receive offers and be rewarded with minutes/megabytes/points or other assets.
Richness
The RCS Universal Profile provides a baseline that all clients and devices support for rich multimedia capabilities such as images, audio, video, rich cards (single or in carousels), pre-configured response buttons, QR codes and more.
Privacy and Protection
With business authentication and authorization that assures consumers they are interacting with the real brand, and lets them finalize the conversation whenever they want, opting out from receiving additional messages.
Benefits
WHY SERVICE PROVIDERS NEED THEIR OWN MESSAGING SOLUTIONS
For brands to see mobile messaging as the ultimate digital billboard, a business messaging solution needs to provide rich communications that reach the highest number of eyeballs possible, while ensuring compliance with security and privacy regulations and, most importantly, the guarantee of a clean channel to the consumer—where metadata is not harvested to be sold to their competitors for tracking or advertising purposes. Outsourcing messaging services can put many of these factors at risk.
Ready to bring traffic
ECOSYSTEM OF PARTNERS
Mavenir's leadership in SMS and RCS messaging facilitated the creation of the Mavenir Business Messaging Ecosystem, a network of partners that are pre-integrated with the Mavenir Customer Engagement solution to allow CSPs to bring messaging traffic from developers, applications and brands much faster.