Tier-1 Supplier Comparison Cloud RAN and Open RAN Commercial Progress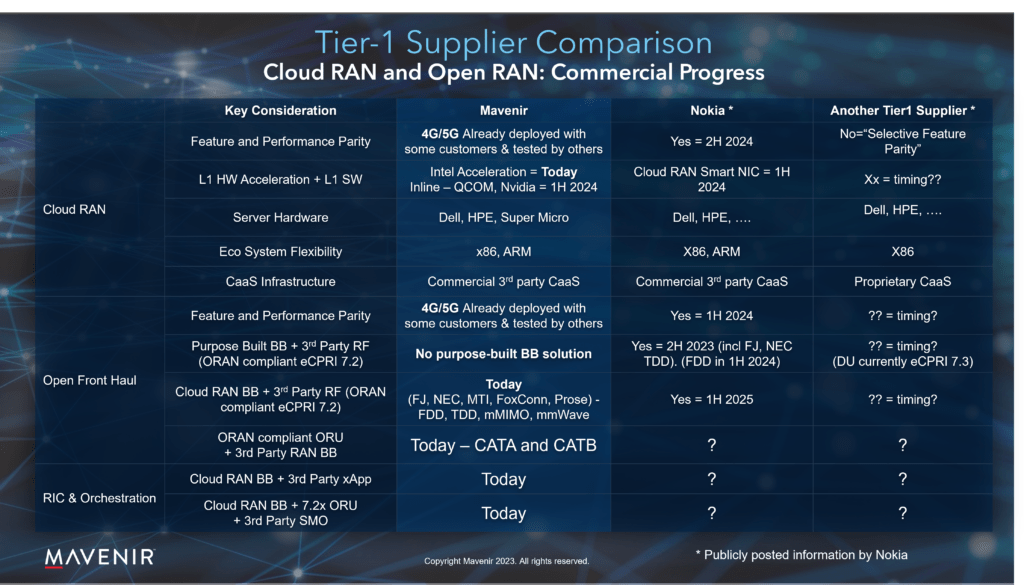 Comparison of Mavenir's solution with the Traditional RAN vendors in terms of O-RAN compliance and flexibility to interoperate (Competitive information publicly provided by Nokia).
While traditional RAN vendors are planning for O-RAN compliant baseband (BB) and radio units (RU) units in the future, Mavenir supports all of them today and on 2G, 4G and 5G technologies. Traditional vendor plans on compatibility to O-RAN specifications for 2G/4G are unknown. A big unknown from traditional RAN players is their openness to inter-operate their RUs with third party RAN BB solutions using Open front- haul (FH). Mavenir O-RU is fully compliant to O-RAN specifications today and can inter work with any Open FH O-RAN compliant BB solution from any vendor. Customers can also benefit from the interoperability of Mavenir's O-RAN compliant BBUs with RU's from various vendors. The open front haul will permit a diverse range of radio unit suppliers to build products for different frequency bands, knowing that their products can inter-operate with BBUs from Mavenir or any other O-RAN compliant BBU. Layer 1 acceleration capability that is available today with Mavenir's baseband is being planned for the future by traditional RAN vendors.
Furthermore, Mavenir Open RAN solutions can work with 3rd party RAN Intelligent Controller (RIC) and Service Management Orchestrators (SMO). This framework with open interfaces towards the RIC will enable a healthy and thriving ecosystem of multivendor rAPPs and xAPPs that can optimize the radio network performance at various time scales to achieve various Operator specific objectives for energy efficiency, slice assurance SLA etc.