Reducing the Broadband Gap with 5G Fixed Wireless Access (FWA)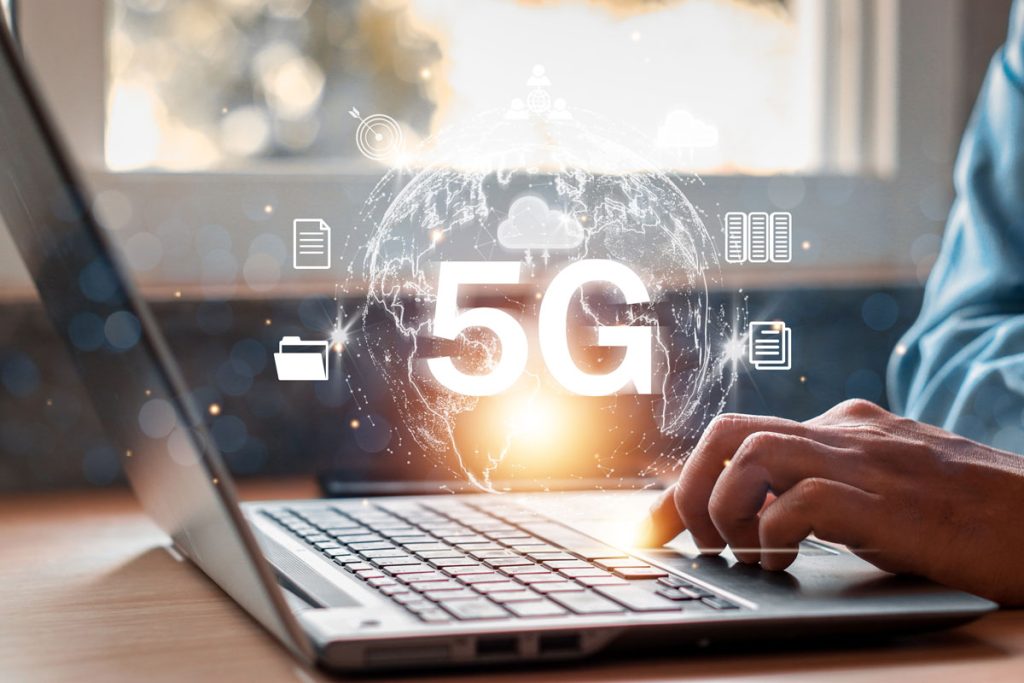 Over the last few years, it has become evident that broadband Internet availability can Impact employment and education options. It is also becoming a key requirement to benefit from the latest home and business automations such as Google Home or Amazon Alexa, brought by Internet of Things (IoT) devices (water sensors, movement detectors, thermostats, irrigation systems) that rely on low-latency, and sometimes high bandwidth, machine to machine (M2M) communication (video doorbells, security cameras). However, as explained below there is severe inequality when it comes to broadband Internet availability and bandwidth offered, depending on where the user resides.
Fixed Wireless Access (FWA) provides a solution especially applicable for those in areas with low-population density where traditional wireline internet is not feasible or cost effective. FWA offers high speed, low latency home internet services that leverage the 4G/LTE and 5G network infrastructure to provide Wi-Fi coverage to an entire residence or business.
FWA became feasible with 4G/LTE and has continued to grow over the last few years. It is estimated to reach 100 million connections globally by the end of 2022 and double to 206 million by 2027. However, 5G is the technology that is expected to grow at a faster pace—while 5G connections represented 12% of the global FWA subscriptions in 2022, they are expected to be 50% in 5 years.
Even at the aggressive US$25 monthly fee (with data and speed caps), the above numbers translate into a US$61.8 Billion opportunity for Mobile Network Operators (MNOs) globally, half of it (US$31 Billion) expected from 5G FWA. And this number may be conservative, due to the increasing adoption of machine-to-machine (M2M) and Internet of Things (IoT) use cases. This opportunity is open to MNOs (they have the licenses to operate the wireless spectrum) as well as cable or wireline communications service providers that offer wireless services as Mobile Virtual Network Operators (MVNOs).

The challenge for rural communities
When serving the last mile really means several miles
All over the world, fiber continues to be the most preferred choice for broadband service providers. This can give high density population areas access to download speeds ranging from tens of megabits per second (Mbps) to gigabits per second (Gbps) with higher upload speeds (even symmetrical connections) that allow high-definition video for telemedicine, work meetings, remote trainings, and many other use cases.
However, due to location, the last 5-10% of homes—the proportion varies by region and market—are too expensive to reach with cable or fiber infrastructure. As a result, all the existing broadband alternatives in the rural space have severe limitations:
DSL is too slow and asymmetrical — DSL can reuse decades-old telephony wires but is very asymmetrical by design (maximizes available bandwidth for download versus upload) and has a dramatic speed decrease with distance. For example, subscribers closer to the local DSL exchange may get download speeds of 25 Mbps but most of rural US subscribers are not reaching 10 Mbps, not meeting the Federal Communications Commission's (FCC) definition of broadband (25 Mbps download, 3 Mbps upload).
Cable and Fiber are too expensive — deploying wiring to the premises is costly for the service provider and there may be other barriers that prevent connections: a long driveway. Many rural buildings are hundreds of yards away from the road where the cable or fiber is deployed—and owners are expected to fund the connection from the road to the building.
Satellite has high latency — with satellite, the time it takes for a data package to go from a user to the internet server, and viceversa, can reach 600 milliseconds (ms) and break some real-time use cases (such as gaming, virtual reality, or telemedicine).
This digital divide has left many rural residents without the ability to take advantage of the same online opportunities, efficiencies, and productivity benefits as their urban counterparts.
Fortunately, the latest advances in wireless technology and, specifically, the deployment of 5G networks (with Massive MIMO and millimeter wave capabilities) allow MNOs to deliver high-speed, low latency broadband services quickly and easily to geographically dispersed population in a more cost-efficient manner.


Bridging the digital divide with Fixed Wireless Access (FWA)
Fixed Wireless Access is a smart way to leverage public wireless network infrastructure and technology (LTE and 5G) to provide high speed Internet access to locations where fiber is not feasible.
Instead of smartphones, the subscriber uses an FWA wireless router, a customer premises equipment (CPE)—that connects to the wireless service provider (using LTE and/or 5G) and provides Wi-Fi coverage for the home, as well as ethernet ports to connect wired devices (e.g., a VoIP phone).
FWA provides a considerable bump in speed for DSL subscribers in rural areas (as of June 2022, the average FWA maximum peak speed marketed globally was 130 Mbps for LTE and 863 Mbps for 5G, 5 to 35 times faster than the best download speed DSL can offer).
Additionally, FWA provides improvements in network latency over satellite broadband. 5G technology can offer latency as low as 30 ms, giving rural users access to the same real-time use cases enjoyed by fiber and cable customers.
There is strong momentum as major MNOs are launching FWA services. In the US, for example, T-Mobile launched commercial 5G Home Internet service in April 2021, and has quadrupled their footprint in 2022 by adding 1.6M subscribers. Verizon offers 5G/LTE FWA via its main brand and recently through its MVNO Straight Talk, and AT&T offers 4G Fixed Wireless Internet for rural customers and businesses.


5G Fixed Wireless Access for market expansion
In addition to democratizing high-speed internet for rural communities, urban and suburban environments, this represents a big opportunity for new entrants in many geographies where there is a lack of true competition. For example, in the US alone more than 200 million U.S. residents live in an area with only one or two reliable highspeed internet providers, leading to prices as much as five times higher in these markets than in markets with more options.
Moreover, the changes in consumer behavior to abandon cable TV services in favor of streaming video subscriptions disincentivize cable providers from expanding into new areas and encourage them to compensate their decline in TV revenue by keeping broadband internet costs as high as the market will tolerate.
Considering that cable operators dominate the US broadband market with almost 70% market share, there is an opportunity to position 5G FWA as a more affordable option.
The combination of Massive MIMO radio technology and/or millimeter wave frequency bands in 5G wireless enables gigabit speeds to multiple users in the same coverage area. This positions 5G FWA as a competitive alternative for multiple scenarios:
MNOs can compete with cable and DSL operators offering similar speeds
Converged service providers (that have wireless and wireline footprint) can secure customer loyalty in new urban developments by offering FWA service and providing a migration to fiber once they finish their deployment
MVNOs can expand their service offering to include home internet services and continue to innovate with prepaid or value-based pricing models.
Why is Open RAN ideal for FWA deployments?
Open RAN allows service providers to leverage open, intelligent, virtualized and fully interoperable equipment to deploy solutions optimized for different scenarios, distances, frequency bands and individual bandwidth requirements.
The flexibility to source best-in-breed elements and cloud-based network functions can accelerate time to market and can reduce the total cost of ownership—by allowing MNOs to create service cells of different sizes and capacity, with the potential to be upgraded in the future, that could leverage artificial intelligence and machine learning algorithms to optimize the energy and resource use in near real-time.
Mavenir's Fixed Wireless Access solution combines Mavenir's Open Virtualized RAN, Converged Packet Core and OpenBeam portfolio of radio units to provide MNOs with a competitive solution that delivers high throughput, differentiated QoS control, geo-restriction, home-zoning, differentiated charging, advanced power savings, and many more features, all in a low-footprint deployment that leverages public and private cloud infrastructure.
For more information, visit Mavenir's Fixed Wireless Access solution page.