RCS BUSINESS MEASSAGING FOR REVENUE-MAVENIR+SYNIVERSE

Top Operator recently visited with Mavenir's own Guillaume Le Mener, Senior Vice President of Enterprise Solutions to discuss the Mavenir/Syniverse RBM solution. Dan Baker, Editor of Top Operator shares that Mavenir is known as a fast-rising network software provider that competes with the likes of Ericsson and Syniverse is a top A2P messaging aggregator and a global leader in roaming and clearance settlements. The race is on to deploy RCS Business Messaging (RMB), a market the GSMA predicts will deliver a handsome $74 billion-a-year revenue gain for MNOs by 2021.
What follows is their in-depth interview on RCS Business Messaging explaining these points:
Why the RCS interface is a powerful upgrade to text-based SMS;
How issues of user trust, pricing models, and gaining critical mass are being solved;
Why Messaging-as-a-Platform, brand verification, aggregator partners, and brand security are crucial; and,
What specific MNO investment and flexibility options Mavenir and Syniverse offer to add value.
Dan Baker, Editor, Top Operator: Guillaume, for 23 years Mavenir has been a network software provider on the infrastructure side.  So many readers will wonder: why is Mavenir moving into the services side with RCS Business Messaging (RBM)?
Guillaume Le Mener: Dan, it's true.  Mavenir's reputation is strongest in two key areas: Core Networks (VoLTE, IMS, etc.) and Access Networks (5G Core, RAN, etc.). However, in recent years we have expanded to help operators on the Special Services side too, in places like IoT, UCaaS, and, now, RCS Business Messaging.  We view RBM is an exciting greenfield area with lots of growth potential.
Looking at the current messaging market, it's now clear the traditional P2P business model is not working anymore for operators.  Actually, only three countries are still making investments in P2P: the U.S., China, and Japan. The rest of the countries are investing in P2A.  So that's why we are running full steam ahead in bringing P2A business messaging to market.  RBM enables brands to engage as never before on the mobile phone.  It opens up a new world of chatbots, search, marketing, and artificial intelligence (AI) within the messaging application.
User adoption of RBM is simple and straightforward.  There is no longer a need to download multiple apps.  Instead, users gain direct access to brands and services from within the messaging app, allowing them to engage with virtual assistants to book flights, buy clothes, make restaurant reservations, etc.
And Mavenir and Syniverse have teamed up to deliver a full end-to-end RBM solution.
DB: Everyone wants real estate on the user's mobile phone.  How is RBM going to make life simpler for the user?
GLM: Dan, the trend toward greater consolidation of mobile apps into trusted Omni-channels is well underway.  What the brands want to avoid is having to build a bot for hundreds of different channels — and across the world.
We think RBM will accelerate this omni-channel trend.  And focusing RCS activity on the messenger app will enable MNOs to capture advertising and monetization opportunities that would otherwise go to the big OTTs.
And yet we can also provide great value to the big platform providers (Microsoft, Amazon, etc.) in connecting them to RBM.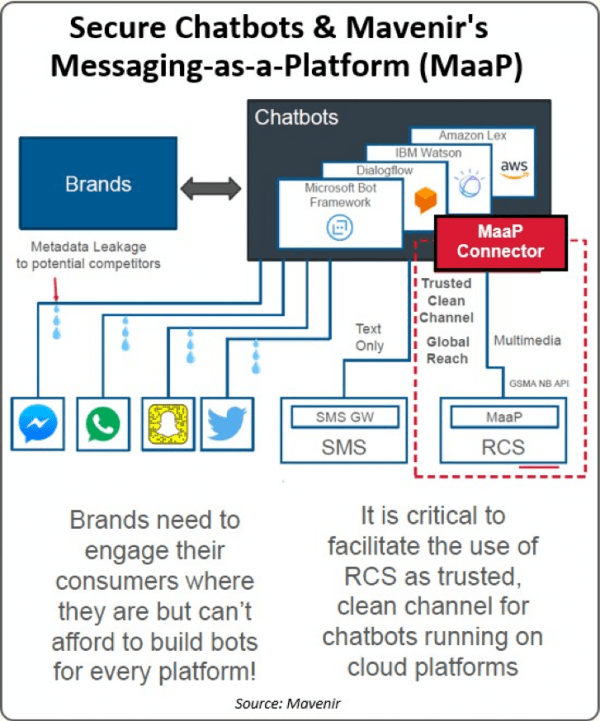 Today, there are big security leaks in these mobile IP channels.  And the leaks I'm talking about are metadata information leaks as the OTTs snoop on their competitors' info streams. For example, I use Air France as my airline.  So, when I start searching for a flight from Paris and Venice, I see the competitors to Air France advertising on that page. The reason that happens is the channel is not proofed for authentication.  However, Mavenir RCS Business Messaging wraps security around a brand's messaging.  Then, as trust grows in our Messaging as a Platform (MaaP), brands will increasingly trust us for their global messaging needs.
The big value that Mavenir brings to the table is that our MaaP solution is a trusted neutral provider and a universal translator between the brands, the OTTs, the aggregators, and the MNOs. And we can fill that role because Mavenir speaks telecom, and we're experts at delivering the restful APIs, TCP/IP stuff, IMS, and other telco-specific requirements that enable RBM.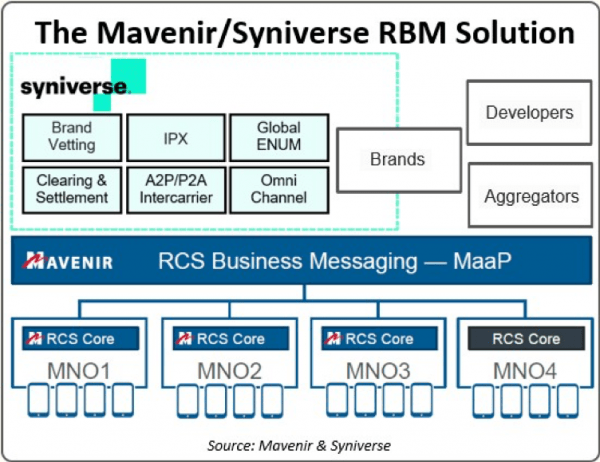 Dan, up to now I've discussed the technical and network software side of the RBM, but to deliver a full solution, there are a number of businesses, brand vetting, identity, and interconnect processes that need to be part of the full system. And for all these and the complex clearing and settlement side of RBM, Syniverse, our full partner in the RBM solution, has full responsibility. (The diagram above shows the full system.)
DB: Great.  Syniverse is the world's largest revenue clearance/settlement house for mobile roaming, but I know the company's active in many other corners of telecom, too.
Syniverse: Syniverse has been in the mobile business for 31 years.  We actually started out as a GTE company. And yes, as you said, we're most well-known today as the premier clearing and settlement provider of roaming transactions, for which we settle about $15 billion a year.
We are also in the middle of the messaging business.  As a messaging aggregator, we have several brands coming into us to interconnect to the messaging networks of other operators.  In that business, we process about 2 billion messages per day and are connected to 7 billion mobile devices around the world, and that fits our tagline, which is "the world's most connected company." We also provide services for mobile wallet solutions. When you add them all up, we are connected to a total of some 1,500 MNOs and brands.
Another side of our business is operating a large and secure private IPX network.  This is "members only" and includes mostly global operators, though we also work with some brands there, too.
Now, a less recognized expertise is our ability to map global phone numbers into IP, which is important to IPFS (Interplanetary File Service), which underpins blockchain and other advanced IP technologies.
Fraud and risk mitigation are other key areas of our business.  This is crucial to the IPFS global network and for bot verification.  In these areas, we offer the most comprehensive cloud-based solution out there for operators.
Perhaps most critical of all: operators want 99.9999% availability.  They simply cannot afford to have something less reliable.  And in the inter-carrier messaging space today, Syniverse has zero outages.
DB: So how are Syniverse and Mavenir working together in this RBM solution?
GLM: The simple answer is we complement each other to deliver a highly complex solution that bridges communications tech, revenue generation and clearance, and quite a bit more. Syniverse has a great experience on the SMS side, and Mavenir is an expert on implementing this new RCS capability and has 13 active deployments.
The diagram below summarizes the full process and what our teams bring to the table.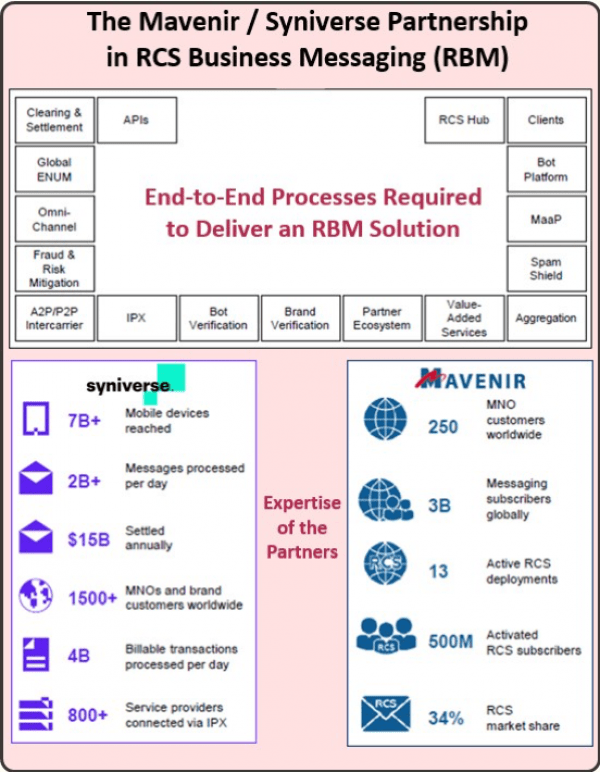 Today, Syniverse is already helping operators monetize their A2P traffic.  We also aggregate messaging traffic and connect them with the brands and their advertising agencies. So, merging our experience together covers all the bases for a full business and technical solution.  And both of us are deployed with operators.  I don't think there's a mobile operator on the planet that one or both of us is not working with today.
DB: How are Mavenir and Syniverse taking RBM to market?  What's the business model for the operator taking on your solution?
GLM: Today, Mavenir and Syniverse offer a one-stop-shop cloud-hosted no-capex service that avoids the tremendous risk involved in building such a solution. We enable RBM and collect money against the brands on behalf of the operator.  And Mavenir and Syniverse get paid through a revenue share.
However, let's say an operator's RBM program is successful, and it sees value in owning its own infrastructure and absorbing the risks and rewards of RBM. Well, in that case, we also provide them the option to migrate to a capex (or license) model instead of a revenue share for the MaaP, for which Syniverse can still provide them the clearance and settlement services, interconnection, and omni-channel capabilities. This option is unique in the market today.  Neither of our two competitors offers that same capability.  Yet we think having these two options is valuable for mobile network operators.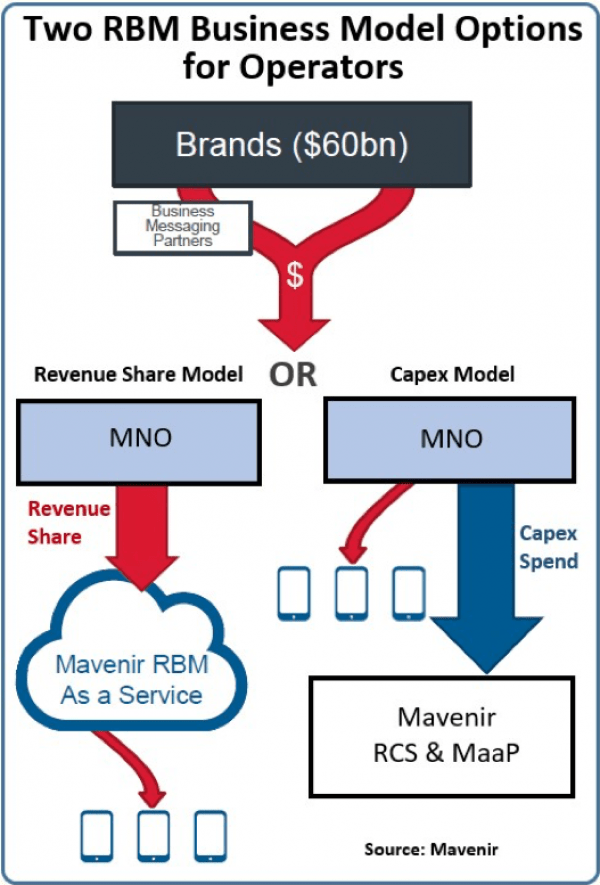 DB: Guillaume, thanks much for this fine briefing.  This certainly sounds like a great revenue generator for MNOs.
GLM: Dan, I think the key message is traditional P2P revenue is a lost opportunity that MNOs must have a replacement for. The visual and intuitive combining of search is clearly a better way for brands to communicate.  It is both a great user experience and a way for MNOs to capture significant advertising and marketing revenue.
For quite some time, telecoms have worried about being marginalized as simple-pipe providers.  But RBM represents a marvelous opportunity to deliver great value for brands and get well-paid for it.