Extending 5G Reach with Fixed Wireless Access: The New Broadband For All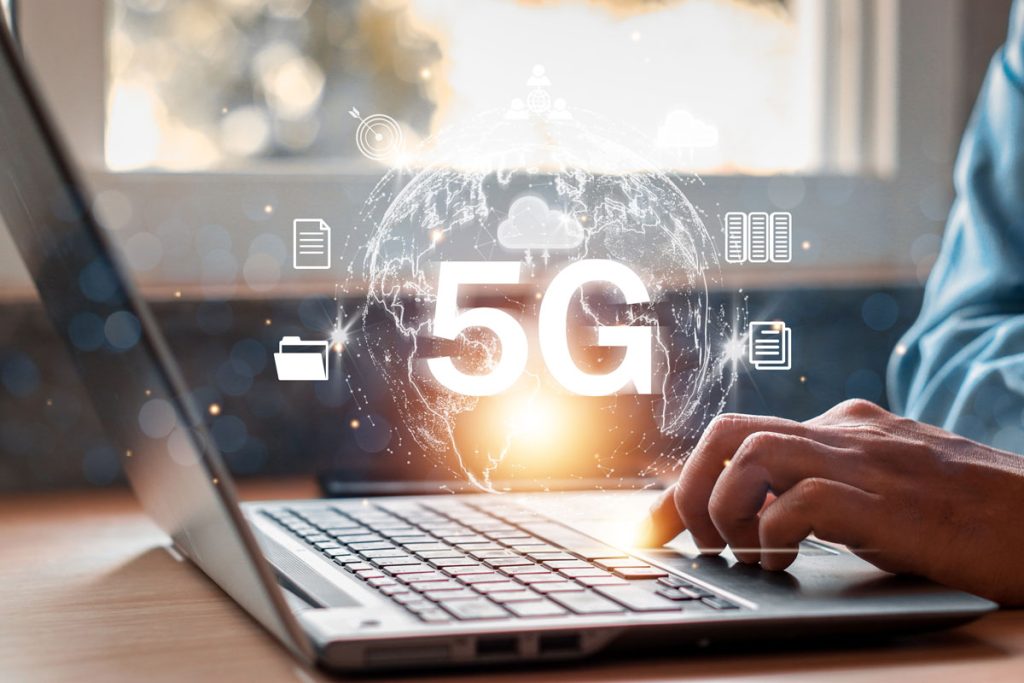 Fixed and mobile broadband bring connectivity to most, but some rural and suburban areas still lack reliable high-speed internet. Fixed Wireless Access (FWA) has the unique capability to connect the unconnected and bring affordable broadband services to all.
Need for reliable high-speed internet connection
Connectivity is no longer a privilege; it is a necessity. The reliance on high-speed internet has increased multi-fold in recent years. Trends such as telemedicine, work-from-home, e-learning, gaming, entertainment media streaming, home workouts, online consultations, AR/VR, and video communication contribute to increased data usage and creation.
The pandemic set new trends of communication that are now hardwired and expected to persist. Such shifting of consumer usage patterns is driving the need for home and enterprise broadband.
A robust, high-speed, and reliable fixed broadband infrastructure is now more critical than ever, and so is the need to deploy it in a timely and cost-effective manner.
The digital divide
While fixed and mobile broadband brings connectivity to most, some rural and suburban areas still lack reliable high-speed broadband. Almost a third of the world's population is affected by the digital divide and only 53% of the world's population has access to high-speed broadband. It is expensive to lay fiber in hard-to-reach areas, and fixed broadband installation is time-consuming. Moreover, fixed broadband has limited revenue opportunities and lower ROI.
5G FWA – An exciting new opportunity for telco revenue
A mobile operator with a nationwide footprint can bring a viable broadband option to rural and underserved geographies by efficiently deploying 5G FWA. Rural consumers can benefit from improved connectivity and speed to help close the digital divide.
FWA solutions have an advantage, especially in sparsely populated rural geographies that are more economically challenging to cover using traditional fixed-line solutions.
5G FWA is a win-win for both CSPs and customers
With data-intensive applications, gigabit speeds have become the new benchmark for consumers. This need provides CSPs a promising growth opportunity to capture new revenue by bringing FWA services to the market1.
It's time for a new broadband solution for all
Mavenir's FWA solution runs on lean infrastructure and delivers a superior customer experience quickly and economically. A converged packet core enables operators to have one network for Fixed Wireless Access as well as IoT, enhanced Mobile Broadband, and mission-critical services.
---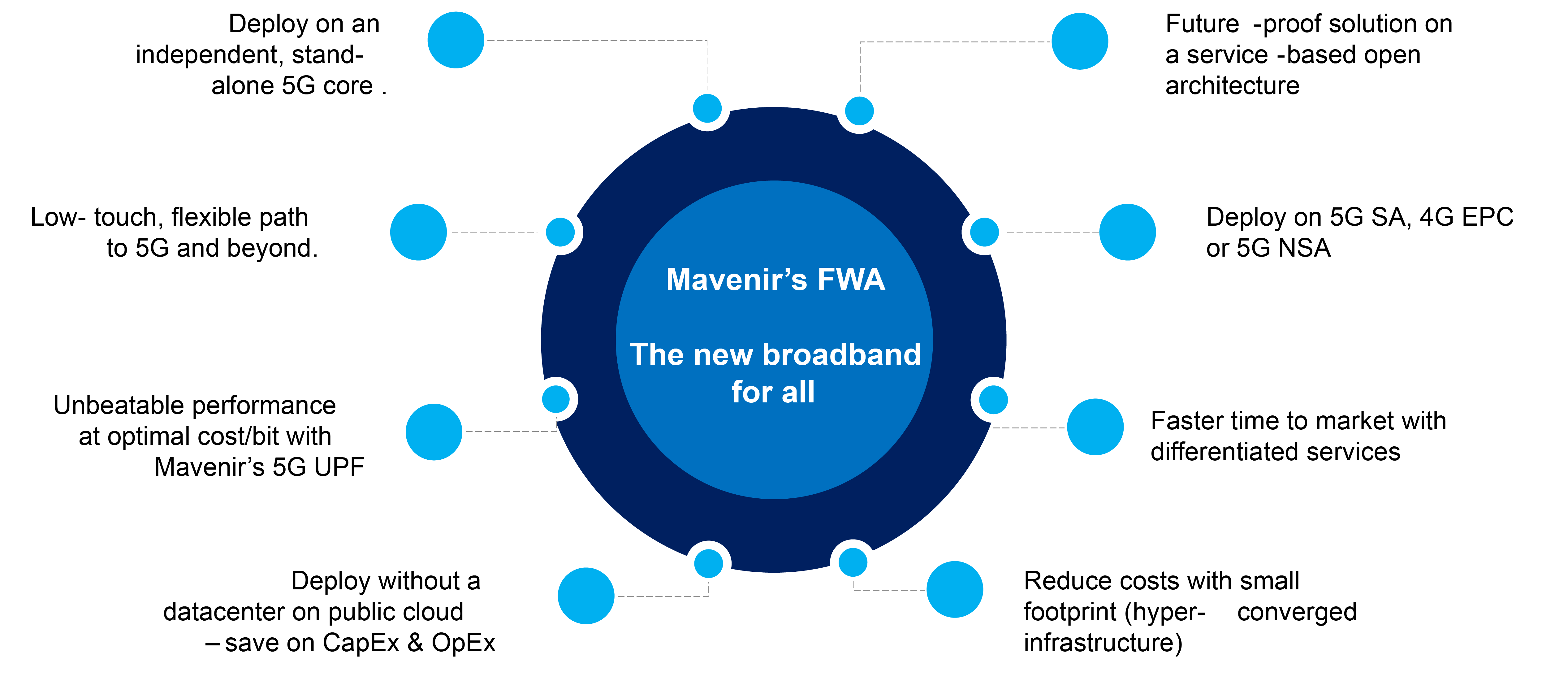 A competitive, viable, and affordable solution for all
---
CSPs can deploy FWA on an independent standalone (SA) 5G core, which makes it future-proof because it's based on a services architecture. This also makes it possible to deliver FWA without a data center by quickly deploying on a public cloud and saving on CAPEX and OPEX overhead.
Network slicing on 5G enables CSPs to provide differentiated services without any capacity conflict and go to market faster.
Using a Hyper-Converged Infrastructure (HCI) meets the requirements for a lean solution with maximum throughput. Using a small footprint solution reduces costs for CSPs, especially when they can deploy FWA on 4G EPC, 5G NSA, or 5G SA all using the same converged packet core.
Mavenir's FWA solution is a viable alternative to running fiber-to-the-home (FTTH), bringing connectivity to every household at affordable costs. The high throughput 5G user plane function (UPF) lets CSPs leverage unbeatable performance at optimal cost/bit. This low-touch flexible path to 5G and beyond minimizes risk while improving speed, security, and reliability.
Existing wired infrastructures struggle to keep up with changing demands, and FWA is an ideal, flexible, low-cost alternative that bridges the digital divide by ensuring broadband equality.
[1] 5G Fixed Wireless Access (FWA) Market Share Set to Reach US $88.5 Billion By 2027, CAGR of 99.3%: Polaris Market Research