Ready to Implement Open RAN? There are Three Emerging Variations.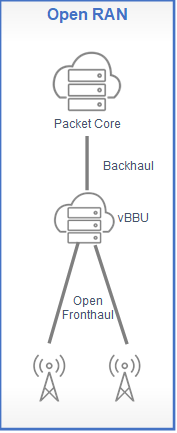 The industry continues to embrace Open RAN—it's clearly the future of mobile networks. But what exactly is true Open RAN, and how do CSPs know which of the three emerging variations is right for their network: Open Fronthaul RAN, Disaggregated Open vRAN, or Cloud Open vRAN? 
Because it's gaining popularity, the term "Open RAN" is being used by different companies to mean different things. In Mavenir's view, Open RAN is about interoperability between products, not the interfaces inside products. In other words, if it doesn't interoperate with other vendors, it's not an Open RAN solution. That's the whole point of Open RAN – a specified, interoperable interface that enables CSPs choose any mix of vendors and avoid vendor lock-in. 
All three types of Open vRAN support all network generations (2G, 3G, 4G, 5G). Choosing the type that's right for a CSP network depends on three things: ability to invest immediately versus over time, desire to reap rewards quickly, and capacity planning. In other words, CSPs who desire to more quickly find new ways to generate revenue and reduce integration costs may move straight to Cloud Open vRAN, while CSPs who need to invest in their network more slowly can chose a different architecture.
Open Fronthaul Can be a Good Place to Start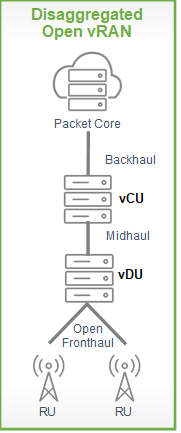 Open vRAN is about interfaces between network elements, not interfaces within products. The first variation of Open RAN is the simplest and
focuses on Open Fronthaul.  
In this variation, a CSP would use O-RAN Alliance Fronthaul interface 7.2 between the Baseband Unit (BBU) and the Remote Radio Unit (RRU).   
Gain More Flexibility with Disaggregated Open vRAN 
In this second variation there are more open, interoperable interfaces, enabling disaggregated hardware and software. This is where the potential of Open RAN becomes more apparent.  
The decision depends on a variety of factors, including the distance limitations between the Radio Unit (RU) and Distributed Unit (DU).  The DU is the pivot point where network elements are deployed. Then the virtual Centralized Unit (CU) could be centralized in a data center type application that could be hundreds of kilometers away.  
Obtain Cost Savings and Revenue Opportunities with Cloud Open vRAN 
Cloud Open vRAN is the variation that has the most long-term benefits. Implementing a cloud-native architecture enables CSPs to: 
Build a resilient network

 

Reduce integration costs

 

Open new avenues for revenue generation
CSPs can achieve more cost optimization in Cloud Open vRAN because it offers even more location flexibility. The
DU could be physically at the site, an intermediate or cloud location. And once CSPs start pooling multiple cell sites to a single DU, the cost benefits of running multiple versions of software on a single compute function kick in. Additionally, CUs can be hosted in the cloud, giving great flexibility in building out the network. 
For CSPs hesitating to move to the cloud due to worries about availability, resiliency is already built into the network. That was a finding that came out of the work Mavenir did with DISH.  
Cloud or network-based Open vRAN is also where the RAN Intelligent Controller (RIC) starts to come into play. The RIC is essentially two parts: a non-real-time RIC, which could be cloud-based, and the near-real-time RIC, which is the essence of the cloud applications. Learn more about RICs and their future here.  
Open vRAN is the future for CSPs who want to build resilient networks that accelerate new revenue streams and lower their TCO over time. Depending on current investments and business priorities, it may make sense for some CSPs to first implement Open Fronthaul while others may move quickly to a fully cloud-based architecture.