Interview With John Baker at Open RAN World in Berlin – April 2023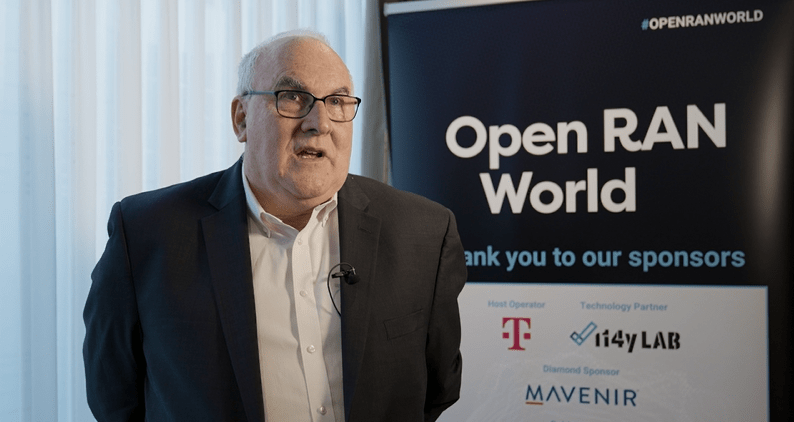 Click here to view the recording
It's said that Open RAN is all about 'Open Interfaces'. This feels like an oversimplified view. Can you explain?
It's really not complicated. Yes, it's all about interoperability between two different elements in a mobile network. Those two elements could be actually manufactured by two different vendors, and providing the interface between the two is fully specified and fully implemented, then those elements should actually be able to work together when put together, just like you plug a modem into the internet network today. Obviously, that's the holy grail, if you like, of mobile networks is to build it like the internet.
Green networks and improving efficiencies in the RAN are key topics in the industry today – how does Open RAN fit within this?
Open RAN is only really one part of it. The major issue that still needs to be addressed is the one of radio power consumption. A lot more work needs to go into developing different technologies, new ways of building remote radio heads or power amplifiers because they're essentially the same for the old RAN networks and the new RAN networks. Not a lot has changed over the last 20 years. It's a great area for innovation, great area for investment, and a great area for power savings.
VMO2 has recently named Mavenir as the prime systems integrator and Open RAN provider for a 2023 deployment. Can you talk about what Mavenir's role as system integrator will be and why it's required?
Yes, VMO2 chose Mavenir as a system integrator really on one back to pat approach. Mavenir will be using other third-party system integrators in terms of building the necessary sites, hanging radios, et cetera. Essentially just like in today's network builds, there's one person responsible managing a lot of other different entities, including managing our own component deliveries into that network for building the VMO2 Open RAN Network.
Can you talk about the importance of the DISH Wireless deployment in the US and why it's considered to be the blueprint for Open disaggregated networks of the future?
Dish is changing the way in which mobile networks are being built. They've essentially built half the network in the cloud, applied true Open RAN with interoperability between all the element vendors, proving the completeness of Open RAN. In addition, they've essentially changed what's been a CapEx model into an OPEX model, as an operator. For example, DISH Wireless doesn't necessarily own data centers. They use Amazon for cloud hosting a lot of the key components of the mobile network, which changes the whole operational model and essentially, improves the profitability of DISH as an operator.