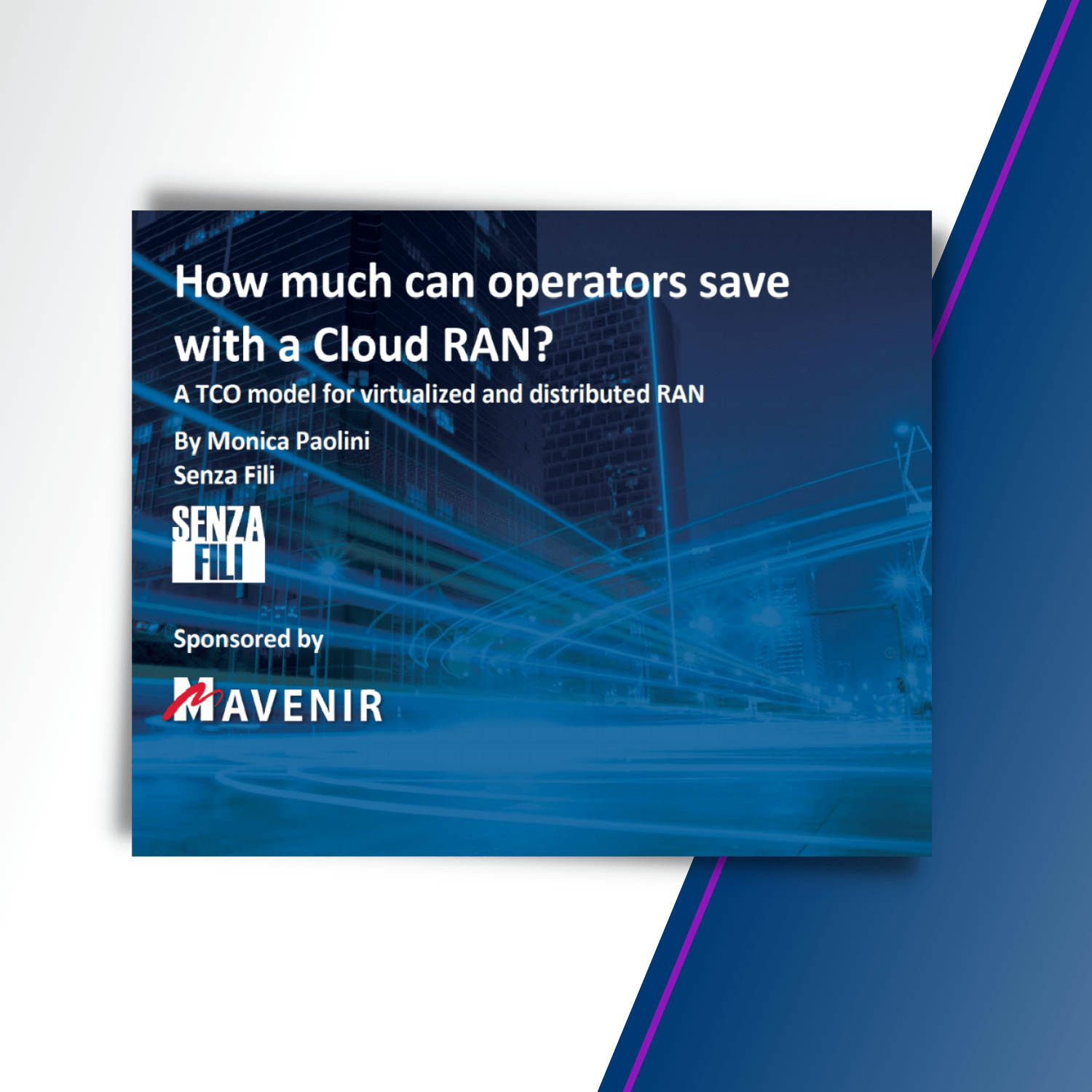 Hidden from Resources, White Paper
How Much Can Operators Save With a Cloud RAN?
With a Cloud RAN Deployment, Mobile Operators Can See 49% Savings in Capex and 31% Annual Savings in Opex, Reveals Mavenir Study
Mavenir accelerates and redefines network transformation for Service Providers by offering a comprehensive product portfolio across every layer of the network infrastructure stack — from 5G application/service layer to the RAN and packet core. Mavenir is a software company that leads the way in evolved, cloud-proven networking solutions enabling innovative and secure new experiences for end-users. Through its industry-first VoLTE, VoWiFi, Advanced Messaging, Multi-ID, and Virtualized RAN solutions, Mavenir's platform enables service providers to successfully deliver innovative new services, lower costs and realize new revenue streams.
Mavenir focused on accelerating software network transformation and redefining network economics for Communications Service Providers, recently released the results of a Total Cost of Ownership (TCO) model.
The analysis finds that operators can save 37% in deployment and operational costs over a period of 5 years, due to a 49% reduction in capex, and a 31% reduction in opex.
Together with Monica Paolini of Senza Fili Consulting, Mavenir developed the TCO model for virtualized and distributed RAN to understand and quantify how much CSPs can save with a vRAN (formerly Cloud RAN). The TCO model looks at the cost savings an operator can expect in a vRAN deployment over 5 years, as well as the specific financial benefits that macro, and indoor and outdoor small cells contribute to the overall network.
"Mavenir's vRAN extends virtualization to the edge of the network and provides strategic differentiation by enabling the Remote Radio Units (RRUs) to interwork with the virtualized Cloud Base Band Unit (vBBU) over Ethernet Fronthaul (FH) at a tenth of the bandwidth that is currently required with proprietary solutions," said Ashok Khuntia, GM and EVP, Access Products for Mavenir.  "Virtualized RAN opens the door to using previously excluded Front Haul solutions and to processing of the radio interface on COTS Intel processors, all having a significant impact on the TCO."
"Virtualization opens new ways to architect, deploy and operate wireless networks including the radio access network (RAN), where vRAN can bring substantial capex and opex savings to operators that move baseband processing away from the cell site to a remote location," said Monica Paolini, President, Senza Fili Consulting.
Standardization of an "OPEN" Fronthaul interface is currently underway in the xRAN Fronthaul project.
Fill out and submit the form to download the white paper.