Path to be a Digital Service Provider
Sandeep Singh
07 January 2020
Telcos are in early days of migrating to cloud software. What we see these days is an incredible wave, a global phenomenon of digital transformation where 5G is acting as a catalyst for Service Providers to invest in transformation of the business and focus on providing an enriching customer experience.
To get to that state of Digital Nirvana, a place that 'millennials' experience with Digital native companies like the FAANG, telco providers need to transform. For very long telcos survived having transactional relationship with their customers but they acknowledge that digital native companies are eating their lunch and minimizing their value. This is happening because digital native providers paid close attention to the "context of customer" rather than maintaining a transactional only relationship with the customers. Because of this context, when a customer need arises, these companies are better positioned to serve those needs – at the right time. Ultimately leading to a happy customer which translates into customer stickiness.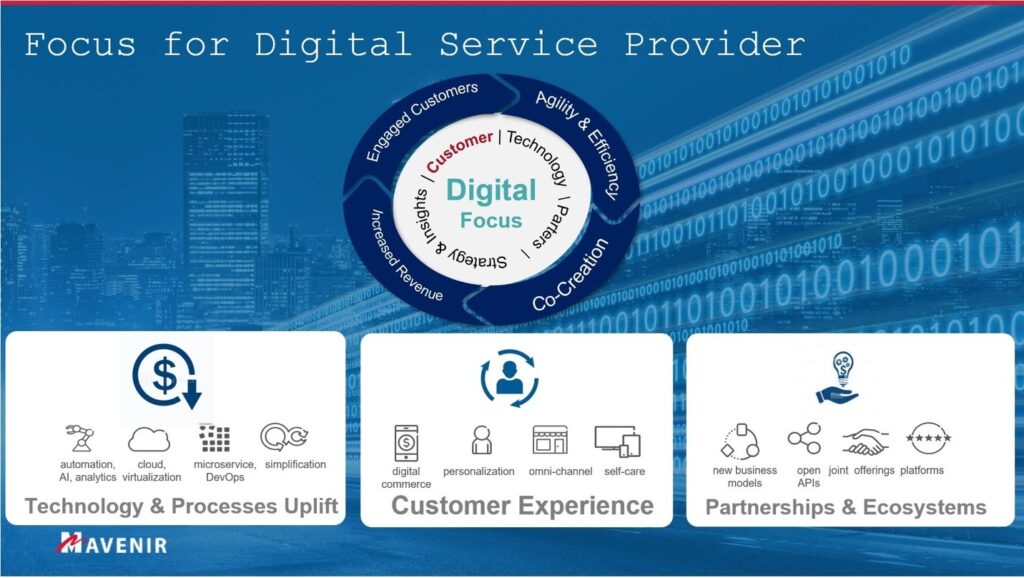 For legacy telco providers to win back their value in their customer's mind – they need to transform into becoming a Digital Service Provider. The path to transformation can be summarized in 3 main categories.
First is Technology Refresh – lift and shift of underlying technologies to new tech available like microservices, containerization, DevOps practices for Automation that will reduce the cost and provide them the power to scale efficiently.
Second is the focus on customer experience & engagement. This is the need for add analytics driven omni-channel experience for digital commerce personalized through self service. This will make telcos relevant in customer's journey because now each customer can get personalized experience.
Third is the need for reinvention of business model where service and experience to the customers will be delivered via a partner ecosystem. This requires a simplified service capability exchange and a transparent settlement platform for the partners. This will make telcos center of their customer's journey because now they could serve their customer's need beyond telecom services.
Through these transformations the Digital Service Provider will not only deliver an enriching experience & engagement for their customers, but also provide simplicity for partners to collaborate & co-create innovative services with agility & efficiency.
Market Disruption is in our DNA and we always brought innovative solutions to the market. We are now looking to extend our partnership value and success for our customers by offering a compelling and comprehensive Digital Enablement portfolio. Stay Tuned.
Related Topics